Students, faculty, alumni, and supporters of the Japan campus of Temple University (TUJ) were treated to an exceptional opportunity to engage with esteemed Japanese and U.S. government officials representing the Prime Minister's Office of Japan and U.S. Department of Commerce during the week of September 25, 2023. These sessions provided insights into critical matters such as regional security, global trade, cybersecurity, and the diplomatic relationship between the United States and Japan.
Noriyuki Shikata, Cabinet Secretary for Public Affairs in the Prime Minister's Office of Japan, addressed a standing-room-only crowd at TUJ on September 26, 2023. During his remarks, Shikata shared insights about Prime Minister Fumio Kishida Administration's approach to the country's relationship with the United States, engagement in the Indo-Pacific, national security, global health initiatives, and approaches to economic prosperity, innovation, and technology. He explained the importance of the U.S.-Japan alliance and critical nature of stability in East Asia and Indo-Pacific regions. Shikata also highlighted the progress made at the recent Hiroshima Summit.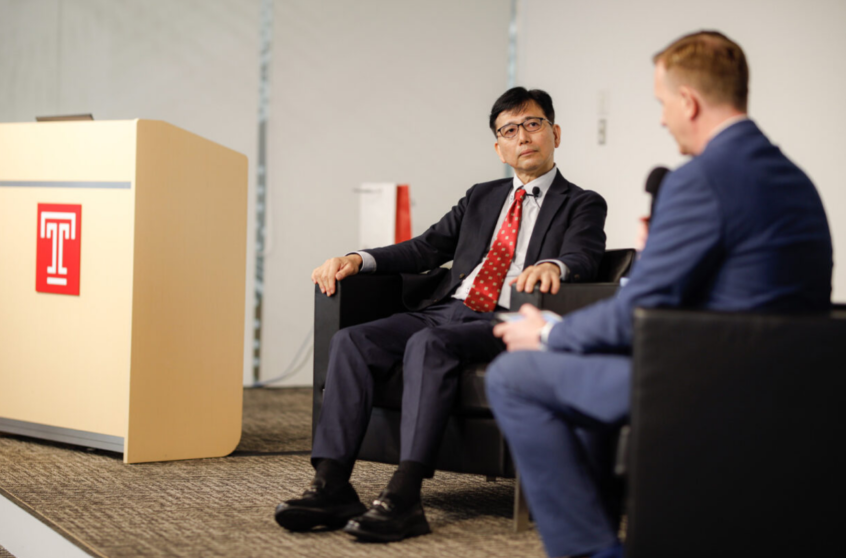 Shikata inspired students aspiring to engage in diplomacy and international affairs. Describing his road to becoming a public servant, Shikata emphasized the importance of international engagement. He shared his experience being an exchange student in the United States during high school and encouraged Temple University students to actively engage in both academic and extracurricular matters. Even though he initially struggled with the language barrier as a foreign exchange student, Shikata noted that he found ways to form strong personal bonds and improve his language skills by serving as the basketball manager and joining the mathematics and biology clubs. Interacting with the local American students and other international students from European, Asian and Latin American countries, Shikata said, "I started to think maybe in the future, I'll try to become a diplomat."

As Shikata concluded his presentation, he recognized the value of TUJ's diverse student body comprised of students from nearly 70 countries and emphasized the importance of gaining experience in such a diverse environment. The veteran Japanese diplomat stressed to the students: "You are living in Japan and going through the American education. From my viewpoint, there are increasing opportunities for you to be very proactive in different areas as future leaders. So, please take advantage of these multicultural educational opportunities for your future."
Less than 18 hours later on September 27, 2023, the TUJ community was honored to host Deputy Security Don Graves from the U.S. Department of Commerce. As the second-highest-ranking official in Commerce, Graves was in Asia leading 15 American companies on a Cybersecurity Business Development Mission in South Korea and Japan. In his policy speech, Graves discussed the importance of cybersecurity and its impact on global security and prosperity. He also shared valuable insights on the U.S.-Japan trade relations, Department of Commerce priorities, and a fresh era of collaboration among the U.S., Japan, and South Korea following the trilateral summit at Camp David in August.
Link to the full text of Graves' remarks:
Remarks by Deputy Secretary of Commerce Don Graves at Temple University Japan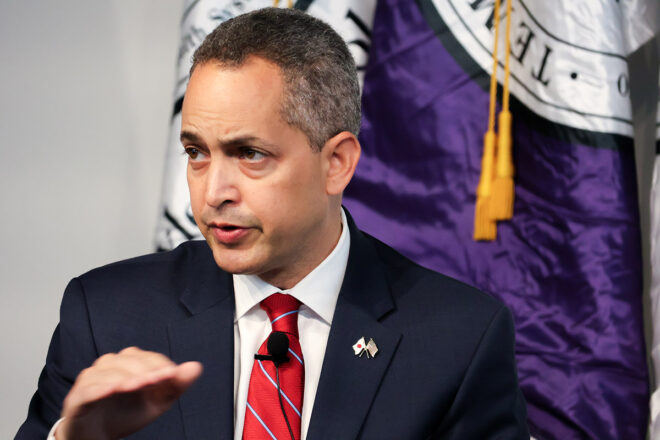 Sharing his experience as a university student, Graves said that although specialization is increasingly common today, he has made it a point to immerse himself in a variety of sectors. In fact, being a "jack-of-all-trades" has its advantages. Graves noted that he didn't fix his career goal when he was in college. "I just knew that I wanted to keep learning. I wanted to be able to engage in a range of issues. I know that I get very bored if I have to do one thing," Graves told the audience which included TUJ students, faculty, diplomats, and members of the media.

Building relationships and engaging in debates with his friends during university helped Graves to be more well-balanced. "Pursue your passion," Graves advised. "Find a way to include that passion in your lives because 1) it's going to keep you energized to do the things that you do, and 2) it's going to give you, as I said that context, the holistic approach that will make you a better leader and a better innovator and a better friend to your other friends.
TUJ serves as a hub for cutting-edge international discourse and dialogue. In addition to world-class speakers participating in our Institute of Contemporary Asian Studies (ICAS) programming, TUJ regularly invites high-ranking government officials and foreign diplomats to campus to lecture and give key-note speeches. Such interactions provide valuable opportunities for TUJ students to engage with prominent figures.

Recent notable speakers have included U.S. Ambassador to Japan Rahm Emanuel (February 2023), India Ambassador to Japan Sanjay Kumar Varma (November 2022), Charge d'affaires of Lithuanian Embassy Argimantas Misevicius (March 2022), and Ukrainian Ambassador Extraordinary and Plenipotentiary Sergiy Korsunsky (February 2022). Taro Kono, a member of the House of Representatives (currently serving as the Minister for Digital Transformation), delivered the keynote speech at the commencement ceremony in May 2022.
---
Other related stories