U.S. Ambassador Emanuel in a group photo with students and faculty after the event in a packed house in the TUJ Parliament
Updated: March 8, 2023. Added the video of the event
---
On February 2, 2023, U.S. Ambassador to Japan Rahm Emanuel visited the Japan campus of Temple University (TUJ) to learn more about the university's distinctive international educational programs and to deliver a keynote address in honor of TUJ's 40th anniversary. As part of his visit, TUJ Dean Matthew Wilson and Senior Associate Dean Chie Kato provided the Ambassador with a campus overview, including class observations and student interactions.
As the 31st U.S. Ambassador to Japan, Emanuel is strengthening bridges and fostering strategic cooperation between the U.S. and Japan in the areas of economic development, technology, security, and cross-cultural exchange. Before his arrival in Tokyo last year, Emanuel had amassed a long and accomplished career in public service, serving as Chief of Staff to President Barack Obama, the 55th Mayor of Chicago, a member of the U.S. House of Representatives, and an advisor to President Bill Clinton.
Addressing a packed house in the TUJ Parliament, Ambassador Emanuel spoke and addressed student questions about a variety of topics, including education, leadership, culture, diplomacy, international politics, the global order, and the relationship between the U.S. and Japan. Emanuel's remarks drew enormous interest from students, faculty, and staff at the university. The event was also live-streamed to the TUJ community.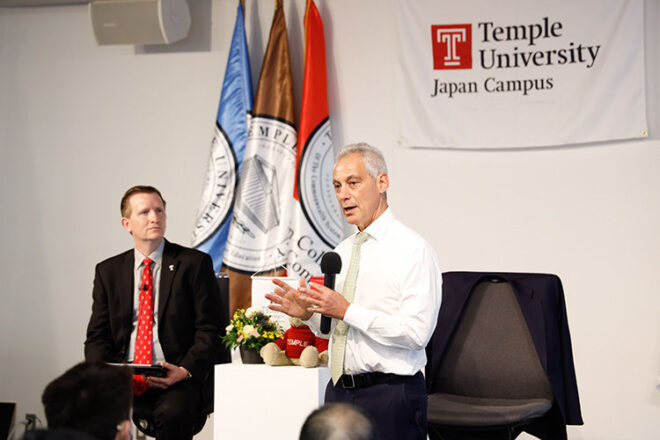 "Don't ever look back at life and say I would have, I could have, or I should have. The worst-case scenario is you fail," Ambassador Emanuel said, responding to a student who asked what advice he might give himself if he could return to the age of 21. The ambassador shared this advice in the context of a life-threatening injury suffered in his youth and a lost job early in his career.
Ambassador Emanuel went on to emphasize the significance of taking lessons from history's blunders. "Abraham Lincoln, whom I consider the greatest president we ever had, was an absolute failure." Emanuel said, however, Lincoln learned from every failure. "You are going to fail. Embrace it as learning," he said. "If you can do that you'll succeed."
In response to a query about the importance of higher education, Emanuel stated that: "I'm a firm believer of liberal arts education. Give me somebody that studies. Give me somebody that has done critical thinking. Give me somebody that basically extracts himself or herself out of their comfort zone." The ambassador notes that when he interviews a candidate for a job, "I am more about education. I am more about somebody who is well-rounded. I'm more about somebody that has been challenged to think and stretched than to stay in a line." Liberal arts education provided by an American university can help students develop these traits, he added.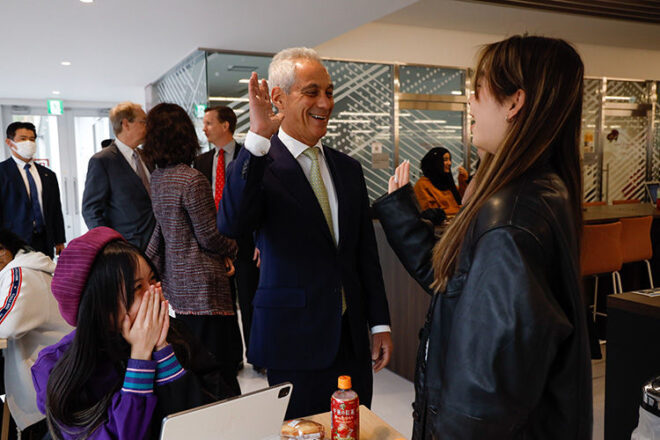 Ambassador Emanuel explained that it is important for a student to learn broadly first and specialize later. "Slosh around. Just get out there and go study all these other things. You'll come back to wherever it is that you are interested in . . . It's going to happen. There is plenty of time to zero in. Spend these four years on your education."
The ambassador's visit to TUJ underscores the deep and longstanding ties between the university and the U.S. government, as well as TUJ's commitment to providing students with a comprehensive and international education. The visit also recognizes the significance of TUJ's presence in Japan for the last four decades, as the university has excelled as the largest and long-lasting branch campus of a foreign university operating in the Asian nation.
Established in 1982, TUJ is a leader in international education in Japan, providing students with a unique and immersive learning experience in one of the most dynamic and exciting countries in the world. TUJ students can expand their horizons while pursuing an American degree from a global top-350 university based in Philadelphia, Pennsylvania. For forty years, Temple University has excelled in building bridges between cultures and advancing the globalization of higher education in Japan. Most recently, the number of undergraduate students enrolled at TUJ has increased dramatically, surpassing 1,840 this academic year. In addition to its core undergraduate program, TUJ educates over 250 students in its graduate programs in education, management, and law. It also provides non-degree programming to over 2,000 learners in its continuing education programs and Academic English Program for children, students, and adults.
---
Other related stories