Students and faculty gather with Ambassador Verma (middle) in a group photo after the lecture
India Ambassador to Japan Sanjay Kumar Verma visited Temple University, Japan Campus (TUJ) on October 6, 2022, and was the guest speaker in Assistant Professor Prachi Gupta's course in Politics of the Global Economy. In his lecture, "The Significance of the India-Japan Partnership for the Current International Order," the ambassador discussed the economic and social development of India and the significance of several key projects and partnerships between India and Japan.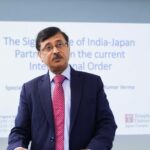 This was followed by an interactive session between the students and the ambassador where the undergraduate asked questions, which covered a wide range of topics including diplomatic history and a series of partnerships established between the countries. "The India-Japan partnership thrives on the continued support and engagement not just between the two governments of our two nations, but of our people, our institutions and our younger generations. Only they can construct a partnership that is mutually beneficial and contributes to peace, progress and harmony in the Indo-Pacific and the current international order," Ambassador Verma said.
Students asked questions about the situation of the Indo-Pacific regions, and about issues of poverty, cyber security and climate change. When asked about his personal goals, Ambassador Verma said that he has made progress in strengthening the relationship between India and Japan. The coronavirus pandemic has caused many disruptions but, the ambassador added, "I'm glad that things have restarted and are proceeding fairly well, and most of my personal goals, therefore, have been achieved."
Dr. Gupta's course in Politics of the Global Economy is designed to deepen knowledge of the interlinkage between economics and politics at a global level. It focuses on the history and evolution of the current world order and various theories of economics and political science. It then focuses on current issues in the international political economy related to globalization and international trade, economic development, democratization and development in less developed countries, inequality, climate change, global governance, security, gender, and other agendas.
Other related stories