TUJ students gather at a booth of a firm to listen to the presentation. Photo by William Galopin
Temple University, Japan Campus (TUJ) held its annual career fair in-person for the first time since 2019, providing an important opportunity for students to engage face-to-face with representatives from 12 prominent companies, including Accenture Japan Ltd. and Lixil Corporation.
The career fair attracted a large, diverse group of students, including freshmen and sophomores, to the university's student lounge, the Parliament, on March 15, 2023. The event allowed students to learn about various career opportunities and to network with leading industry professionals in an in-person setting.
Participating companies (in alphabetical order):
Accenture, Booz Allen Hamilton, Dentsu Digital, DSV Solutions, FocusCore, HDI Global, Link Japan Careers, LIXIL Corporation, Midori no Ki, Section L, Shusaku Yamamoto Law Firm and Square Enix
"I prefer the in-person style as it forces you to be on your game a little bit more and you get to know people a little bit more," said Soren Dickson, a sophomore majoring in international affairs. "I'm a bit old fashioned in that, but I like to see interpersonal manners and talking face-to-face. I think it's more real."
At the annual career fair, company representatives were also reminded of the value of such face-to-face interactions. This allowed them to receive direct questions and observe students' expressions, which can be helpful in understanding their interests and needs.
"I was able to witness an incredibly positive and proactive attitude from the TUJ students," said Megumi Kubo of Lixil Corporation Talent Acquisition Japan. "They were very serious while listening, showed genuine interest and asked questions immediately. It may not be fair to compare this in-person career fair with recent online experiences, but when cameras were off and few questions were being asked, it was difficult to engage. During today's event, students were very lively and made many great comments. Students were enthusiastic and I really want them to join our company."
Students and Employers Maximize Opportunity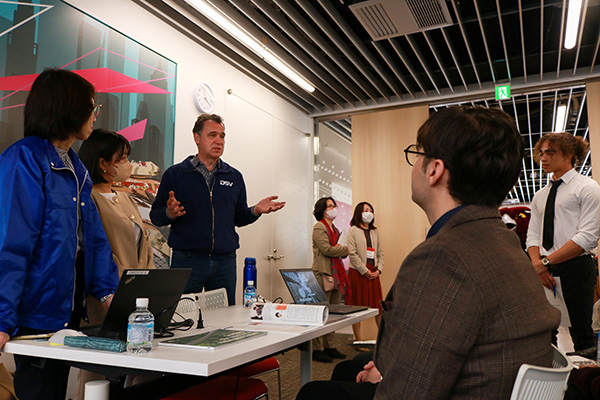 TUJ students found the event very useful for gathering information and networking with many company recruiters. Hana Mohsin, a senior majoring in international affairs, said that she has attended several external career fairs in the past, but found this one to be the most helpful because there was a good balance of companies in attendance. It wasn't too few, but also not so many that attendees got overwhelmed.
Moshin, who speaks Japanese, mentioned that she didn't have to worry about the required level of Japanese proficiency at this fair, unlike many firms at other fairs that require an N1 (the highest level) Japanese language proficiency level, which can be difficult to attain. "I like how this fair was truly international as these companies are looking for international students. I didn't feel disadvantaged compared to other students who were applying for positions," she added.
Kubo from Lixil said that TUJ students had the capabilities that Lixil is looking to hire. "We consider these students to be the people we should be looking for. We want to be a company where people with diverse perspectives and backgrounds can play an active role and TUJ students fit our objectives. Innovation can be created by employees with diverse cultural backgrounds and perspectives. There were students of various backgrounds participating. We would like to have such students join our company. It would be very stimulating for us," Kubo said.
---
Other related stories