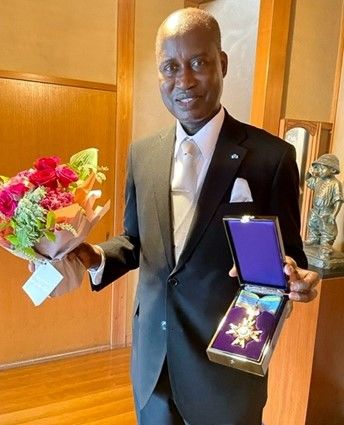 Dr. Singh Faye joined Temple University, Japan Campus (TUJ) as an adjunct assistant professor in the current spring semester. In the spring of 2022, he received "The Order of the Sacred Treasure, Gold Rays with Neck Ribbon" from the Japanese government for his distinguished contribution for many years to developing the English linguistic ability of Japanese diplomats and others.
Dr. Faye is teaching the Bilingual Communities course, which focuses on the relationship between language and identity for the undergraduate program. The course explores the issue of power and solidarity where two languages or dialects are in contact. He has been teaching English and French in Japan for the past 20 years.
He graduated from Dakar University in Senegal, with a Master of Arts in teaching English and a doctorate degree in English literature. He currently teaches at the Foreign Service Training Institute of Japan's Ministry of Foreign Affairs and lectures at the University of Tokyo's Graduate School of Public Policy and Waseda University.
Previously, he has taught French at the Foreign Service Institute of the U.S. State Department, was a French/English interpreter at the U.S. State Department, and French/Spanish editor at the Economic Development Unit of the World Bank.
Other related stories