Alumni of U.S. universities based in Japan reunited at Temple University, Japan Campus for a year-end reunion on December 9, 2022. The reunion took place for the first time in three years as participants used this opportunity to catch up with their old friends and develop new networks with more people taking part in the event after the easing of pandemic-related restrictions.
The annual year-end event was held at the TUJ campus in Setagaya City since 2019 when the university was relocated to the city. Columbia University Alumni Association of Japan, the University of Michigan Alumni Association of Japan and the Tokyo Chapter of the Temple University Alumni Association hosted the event at TUJ's Parliament Student Lounge. About 180 guests attended.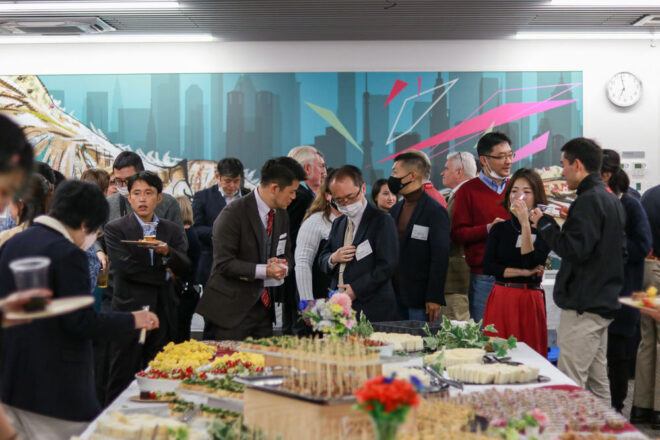 Kaoru Yoshida, a graduate of the University of Michigan, was glad the event was held after a three-year pause due to the coronavirus pandemic. "There was a lot of demand to get this going again this year," said Yoshida, who works as the chief information officer and executive director at Jones Lang LaSalle KK. "We are very happy that everyone is participating tonight and can develop relationships and networks that expand throughout their careers."
Yoshida wants to continue holding the event at TUJ and possibly make this a much larger event in the future. "Having a U.S. university with a campus in Japan helps attract the crowd of alumni and current students, so hopefully we can continue this tradition," he said.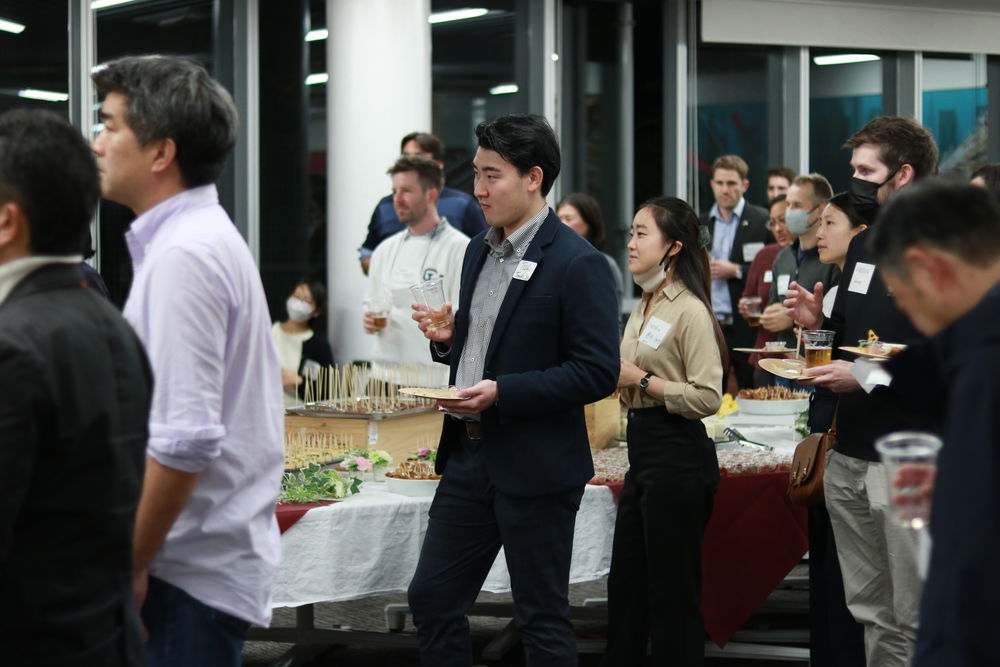 Hajime Kosai, vice president of Columbia University Alumni Association of Japan, said that it is important to hold such an event with alumni of other universities. "We wanted to come back to TUJ to hold this event every year," said Kosai, deputy head of the business strategy office of Tokyo-based EduLab Inc.
Dan Sloan, a senior staff at Nissan Motor Co. Ltd. and an instructor of TUJ's continuing education program, said, "By Temple University hosting this event, they are doing a service to all alumni associations in Japan, as well as featuring the incredible facilities and wonderful campus that Temple has." Sloan received a BA degree from the University of Virginia and a master's degree in journalism from Columbia University.
Participating members of alumni associations included
UC Berkeley
Columbia University
Cornell University
Dartmouth College
Georgetown University
Kellogg School of Management at Northwestern University
University of Michigan
Massachusetts Institute of Technology
Stanford University
Temple University
Yale University
University of Virginia
Other related stories