Photography by George Miller
The first collaborative live streaming esports event was successfully held between Temple University's Esports Club New Tab and Temple University, Japan Campus (TUJ) Gaming Club New Tab on April 17-18 (2pm – EST) / April 18-19 (3 am – JST). Not only was this 24-hour cross-border stream designed to raise funds for Temple University's first esports-related scholarship, but it was also intended to bring esports enthusiasts at the Philadelphia and Tokyo campuses together.
Temple University students in Philadelphia spearheaded the esports event for the initial 14 hours, while the Japan campus (TUJ) students took over hosting duties for the next seven hours. The students on the main campus closed out the final three hours of the full-day stream. The students responsible for organizing this first-time joint global event shared their excitement.
"Overall, everyone seemed to be having so much fun! It genuinely seemed like the most fun that the club has had together since the beginning of the pandemic. I can't wait to do something like this again," said Nadya Dereskavich, Vice President of Temple Main Campus Esports Club.
Aidan Fletcher, a member of the TUJ Gaming Club also expressed his appreciation for the event, saying he and other members of the club were passionate about the dual campus collaboration. Timothy Cohen, another Temple Japan participant, enthusiastically commented that he had "…enjoyed the event and would love to participate in similar events in the future."
"The 24-hour Live Stream event was a unique opportunity to showcase the esports Club and build more awareness for esports at Temple Main Campus and TUJ. Esports continues to grow in popularity and has considerable potential for teaching and research opportunities," said Daniel Funk, professor & department chair, Sport & Recreation Management at Temple's Main Campus. Esports is an exploding industry and offers rising opportunities both professionally and academically worldwide.
Dr. Funk confirmed that this year's event generated $2,500 in donations and matching funds from the Sport Industry Research Center (at Temple Main Campus) for a scholarship award for an incoming freshman or rising freshman pursuing a degree in Sport and Recreation Management while actively participating in esports.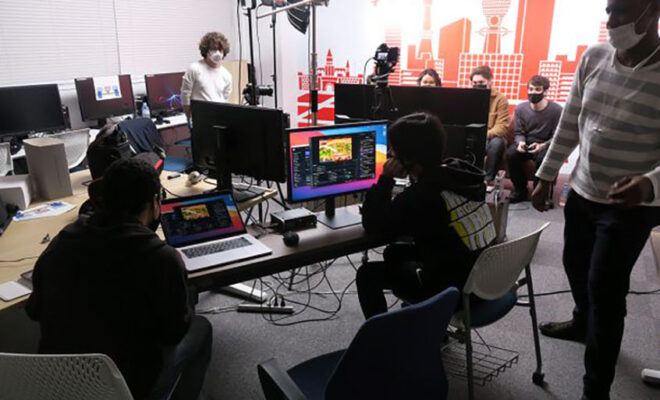 TUJ, as an overseas branch of Temple University, has benefited from this global opportunity and is looking to leverage the surging popularity of esports educationally.
"This event was also a showcase for the talents of our Communication Studies students, who operated the cameras, monitored the sound and overall produced the experience that the people could see on Twitch . It was a valuable experiential learning experience," said George Miller, associate dean for academic affairs at TUJ.
This collaborative event provided an outstanding example of how global campuses can work together and embrace new ideas and technology. As esports continues to draw both industry and academic interest, TUJ's Dean Matt Wilson, who previously spearheaded the development of esports programs at other American universities and served as the presidential representative of NCAA esports working group, ambitiously shares his future intentions to further explore this area.
"As we seek to embrace esports on a greater scale at TUJ, it is our intent to develop global ready students while providing them with an exceptional student experience. TUJ is committed to continue attracting top students while providing innovative pathways for them to flourish academically, socially, and professionally. We are excited about what esports offerings can do for our students in these areas while enhancing engagement across our campus, the community, and the world," said Dean Wilson.
[24 HOUR] TEMPLE'S FIRST ESPORTS SCHOLARSHIP FUNDRAISER GAME TITLES:
The games included during the live stream were a mix of both esports titles and casual games. The esports titles being streamed were Apex Legends, League of Legends, Overwatch, Super Smash Bros. Ultimate, and Valorant. The casual game titles being streamed were Guild Wars 2, Gunfire Reborn, Kirby Air Ride, and Mario Kart 8.