Temple University, Japan Campus (TUJ) held its second annual online spring career fair on March 17. Twelve companies joined the fair, all of which are actively searching for English-speaking talent. They are Japanese and foreign multinationals with strong presences in global markets. The companies included Computec Engineering, Dentsu Digital, HDI Global SE, IBM, JERA, Link Japan Careers, Michael Page, Mitsubishi Fuso Truck and Bus Corporation, Panasonic, Rakuten, Square Enix, Uyeno Kosan. Attending the career fair were 190 undergraduate and graduate students around the world studying at TUJ. Most of them participated in multiple sessions.
Recruiters presented the company overview, vision and mission, as well as hiring specifics. Then students had opportunities to hear from alumni. "If you take advantage of a lot of the opportunities at Temple University that are related to Japan, you can really use that to further your career," said Leana Mitnick, Temple Main Campus Class of 2016. She also studied at TUJ for one semester. She chose Temple University for her undergraduate education because of her interest in Japan.
Mitnick now works as a global HR staff for JERA, a Tepco-Chubu Electronic Power joint venture. She shared her story as a role model as part of a global company in the sustainable energy field, fully utilizing her Japanese skills and her American education.
Mitnick said internships while at TUJ were very meaningful in building up her resume, and encouraged students to make use of the opportunities at TUJ "that you don't really have at other schools, if you're interested in working here in Japan."
In Q&A sessions, the students asked questions on diversity, qualifications, career paths and culture. Japanese proficiency and requirements vary depending on the positions, but the recruiters and representatives encouraged the students to apply as long as they show strong interest and willingness to learn after joining the company.
"All you need is curiosity and continuously learning," said Norishige (Noly) Morimoto, Chief Technology Officer and Vice President, IBM Research & Development – Japan. He is also a member of TUJ's Board of Overseers. TUJ students acquire logical thinking, communication skills, and problem solving skills through a liberal arts education, which IT giants such as IBM seek in their employees in communicating with clients.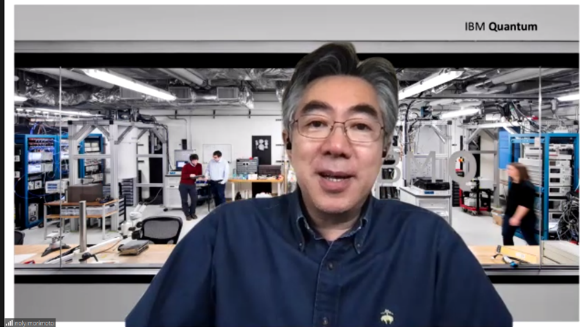 When a student asked each panelist about the uniqueness of IBM, Morimoto said, "to continuously learn, innovate and challenge, as the company has operated over 100 years through dramatic refreshing. It might be a completely different company in 10 years," encouraging students to search for challenges and develop creativity throughout their career.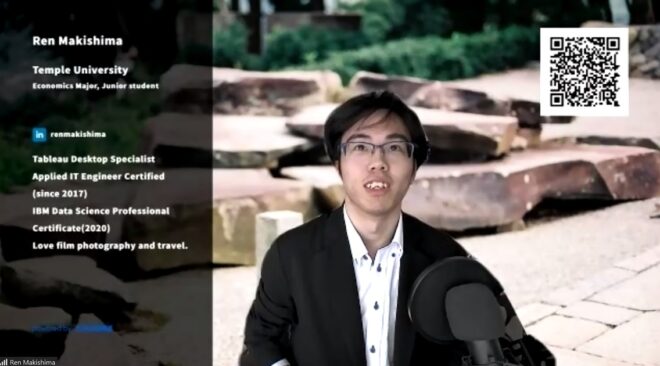 Some students used their creative Zoom background with their profile and QR code to highlight their activities and achievements. "I thought what some of the students did with their Zoom background is very interesting and shows how they can embrace this new style of job hunting," said Erica Adams, director of the Career Development Office.
The TUJ Career Development Office provides students with online and in-person career counseling, internship opportunities, guidance on writing resumes, and interviewing practice to help achieve their career goals.