On November 25, 2020 the Undergraduate Student Government at Temple University, Japan Campus (TUJ) organized and hosted an event to coincide with Thanksgiving in the United States.
"In this season of thanksgiving, I was most grateful to see the smiles of our students, staff and faculty as they received a free pizza provided by Domino's Pizza," said TUJ Dean Matt Wilson. The 300 pizzas that Domino's Pizza Japan donated ran out in under three hours.
Mr. Takatoshi Murai, the store manager of the Setagaya Koen branch of Domino's Pizza, said of this donation, "With the difficult situation due to the ongoing effects of coronavirus, students have faced many struggles, such as not being able to see their families overseas. We decided to help by providing pizza because I thought it would be nice if it could bring even a little bit of joy to everyone's lives."
In addition to the TUJ community, this Thanksgiving event drew over 130 students and staff from Showa Women's University (SWU), which is on the same premises in our campus. "It was surprising, yet pleasing, to see people from Showa Women's University as well as its affiliated high school and junior high school join in the fun," commented TUJ Student Government Vice President Toshimasa Hatori, primary organizer of the event.
Toshiki Fujii of the Center for Academic Support Student Affairs Section of SWU said, "The event was a good opportunity for us to get to know TUJ and interact with foreign students in English. We have fewer opportunities to visit TUJ and interact with students due to Covid-19. Considering the coronavirus situation, the event was a precious opportunity for cultural exchange."
Dean Wilson said that "the preparation, organization, and the event were very impressive. It was incredible to see our student leaders serving the Temple Japan community through this event. Our student leaders were able to build bridges among an industry leader (Domino's Pizza), Showa Women's University, and TUJ. "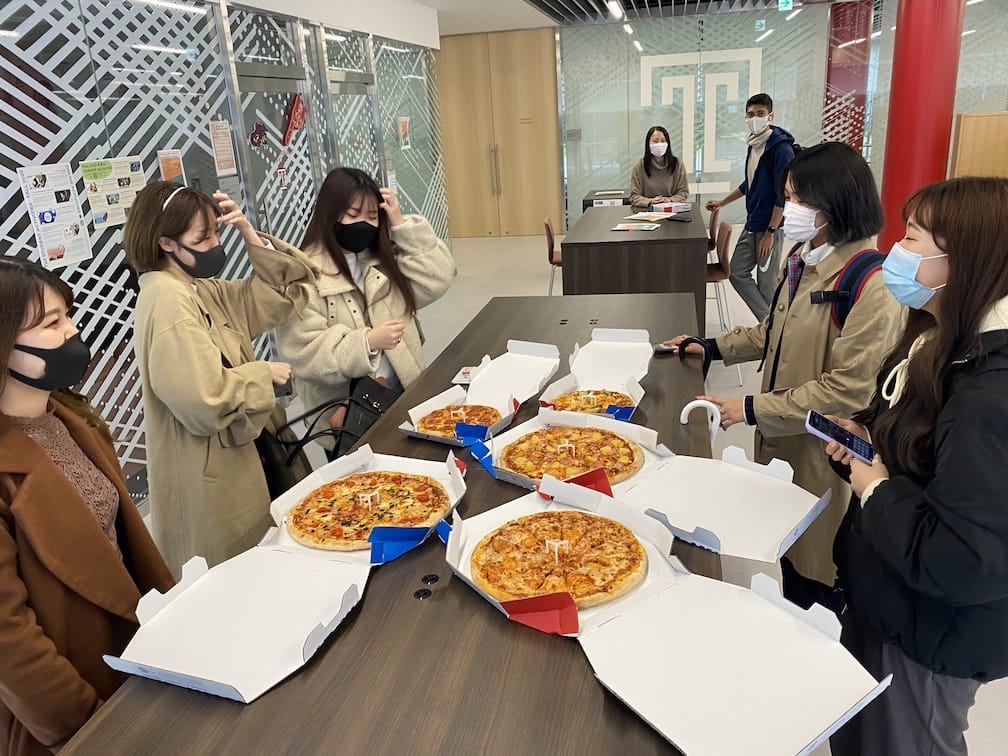 Hatori noted that the "great sense of satisfaction wouldn't be possible without the tremendous effort made by TUJ student leaders in promoting the event, the efforts of our liaison at Showa Women's University, and the time, effort, and donations by Dominos and its employees as they made and delivered 300 pizzas in such a short time."
Mr. Murai said, "I am incredibly honored that everyone was pleased. I believe there were also some people who did not know Domino's Pizza and ate it for the first time. We are very pleased to have made everyone's acquaintance."
For Domino's Pizza's Donation Program, see below:
https://www.dominos.jp/en/service/feedtheneed