Temple University, Japan Campus (TUJ) held its first online bilingual career fair on April 8. The Career Development Office has organized an annual spring career fair on campus every year, but due to COVID-19, this year's was scheduled as online.
This time it hosted a total of 10 companies, all of which are actively recruiting English-speaking students. These companies included Japanese-owned enterprises with significant overseas presences, as well as foreign-owned multinationals with offices in Japan. The participants included both Japanese students and international students (who account for roughly 60 percent of all TUJ undergraduates and come from approximately 60 different countries, with Europe and North America prominently represented). Participating students including those from overseas who went home took advantage of this valuable opportunity to hear from company recruiters and get insights from alumni.
At this online career fair, each participating company was allotted 30 minutes. Two company sessions were held simultaneously during each time slot, and students were able to register to attend the seminars of the companies that most interested them. Online sessions via Zoom have been in place since March 2 when the online classes started in the midst of the spring semester, so the students were used to this new style already.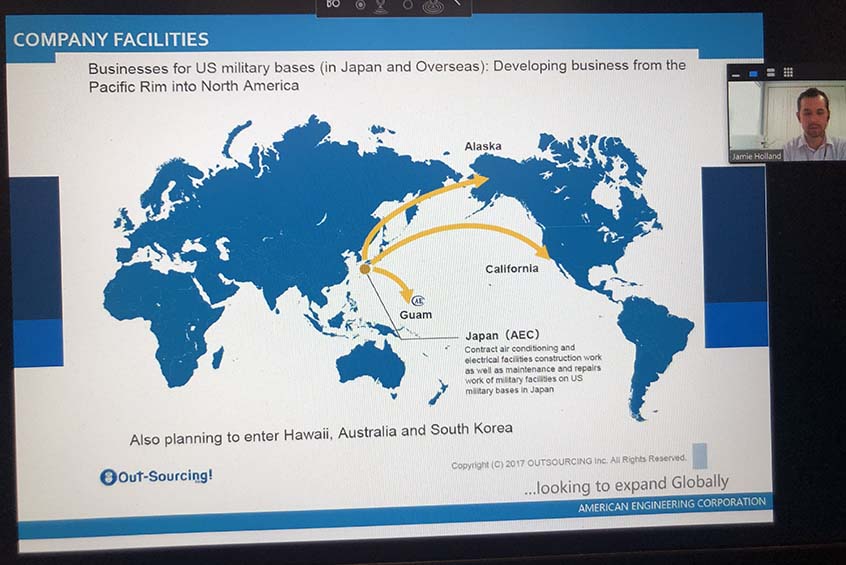 Participating students and company speakers were visible to each other via video. At each session, company presentations included slides and videos. In the following question and answer sessions, students raised their hands on-camera or used the chat feature to ask questions and took part in discussions with the company representatives. Student questions, posed in both Japanese and English, touched on topics including the languages used (and the ratio of Japanese to English used) in daily business, the makeup of company rosters by nationality, their required levels of Japanese language proficiency, and specific job descriptions and duties. Alumni presenters included graduates of TUJ and Temple University's Main Campus in the U.S. They shared their perspectives as working professionals.
Looking back on this career fair, TUJ Director of Career Development Office Kentaro Sawa says, "We felt that in times like these, it is all the more important to create opportunities for our students to interact with corporate recruiters. Although we didn't have much time to prepare and it was challenging to spread the word among students without physical presence on campus, we were able to make the event a success, with the help of all the corporate recruiters. Our students also took part with enthusiasm and asked quite a few excellent questions. Going forward, we expect even after things get back to normal, there will be a growing part of the recruitment process taking place online. We would like to look into what we can do to improve and expand this initiative in the future, taking the students feedback into account."
<TUJ's responses to COVID-19>