In order to reduce the spread of COVID-19 in Japan, and after consultation with Temple University's Main Campus in Philadelphia, Temple University, Japan Campus (TUJ) has suspended classroom teaching and has switched to online classes for two weeks until March 16. Japanese universities are in the midst of entrance exams and spring break, but many American universities on semester systems, including TUJ, are in the middle of spring semester, which goes from January to mid-April. Considering the situation in Japan, TUJ decided to switch classes to online so that students do not lose progress in their coursework. Although classes are being held online, campus operations remain open in order to support students.
Associate Dean for Academic Affairs George Miller held demonstration sessions on February 28 for faculty for online classes using Zoom software. A Q&A session followed. With only 72 hours to prepare, including the weekend, online classes started on March 2.
"It's happening," said Miller.
Given the circumstances, professors are being mindful of carrying on as usual. And there have also been discoveries as a result of conducting classes online. Many students who usually do not speak out in classrooms have been joining in and making comments and asking questions in online classes.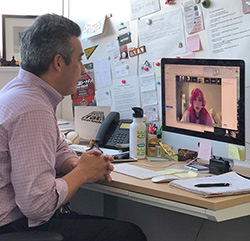 In addition to classes, information sessions and seminars have been switched to online. The Internship Information Session and other seminars hosted by the Career Development Office have been conducted online. "We are surprised to see a very high attendance rate. Students asked many questions via the chat function. And as students adjust their schedules, online sessions might even be more convenient, in a way," says the Career Development Office.
According to a student survey carried out by Miller, although students prefer classroom teaching, as expected, satisfaction rate with online classes is generally high, and this is proving to be a valuable opportunity to explore the potential of online classes. Even though students have been receptive to the use of this technology, there have been issues as devices and access to Wi-Fi vary.
There have been no reports of COVID-19 infection among any personnel in TUJ, Temple University Main Campus, or the Rome Campus. We will continue to strictly enforce measures to prevent the spread of COVID-19 and carry on classes and university operations for the spring semester.
<TUJ's responses to COVID-19>