­­by Justin Sanders, Continuing Education Program director
Our changing world
Our world is changing. That has become acutely apparent in recent weeks. In addition to a changing environment, rapidly advancing technology, and constantly evolving understanding of what drives human behavior, the impact of the coronavirus is showing just how interconnected and interdependent the global economy and society have become.
Such changes help demonstrate just how outdated notions of the traditional three-stage life (school, career, retirement) are becoming. A formal education finishing in our early twenties – no matter how good – cannot adequately prepare us for the myriad of challenges that we will encounter through our increasingly longer lives. According to a report by the Dell Technologies' Institute for the Future, eighty-five percent of the jobs that today's students will do in 2030 do not even exist yet.
Responding to change
With this in mind, Temple University, Japan Campus (TUJ) is making significant investments in its Continuing Education Program. Degree programs and formal education will always have an important role to play in society, but it is important for universities in the 21st century to also provide flexible and adaptive educational models that nimbly respond to the immediate needs of the community.
The TUJ Continuing Education Program is enacting measures to dedicate greater attention to the needs of individuals and businesses in and around Tokyo. We are developing an extensive network of passionate and dedicated experts from both inside and outside TUJ who can deliver needed and current training and skills development. Greater emphasis is being placed on connecting students to the right learning opportunities at the right time. We are also working more closely with local companies and industries to strengthen recognition for the skills gained through our courses and workshops.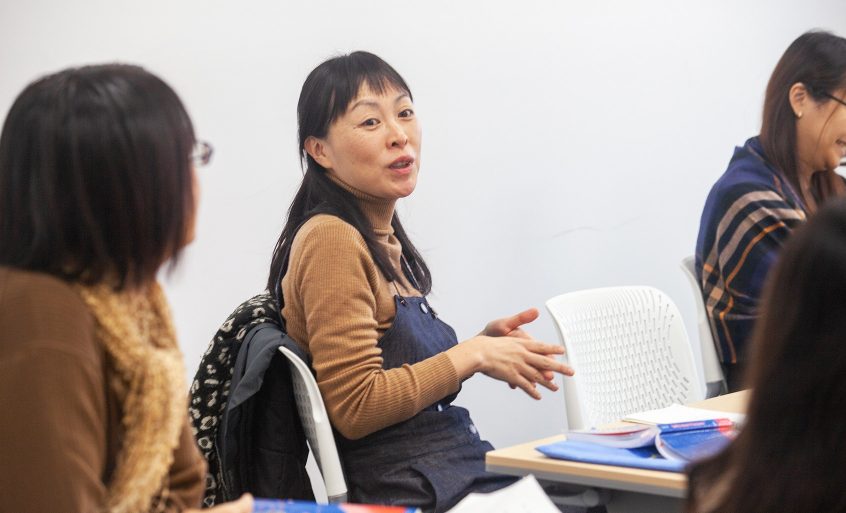 New opportunities
A key priority of the program is identifying new trends and opportunities, and responding with new educational programming as quickly as possible. As evidence of this, we have launched a host of new courses and workshops on topics such as Data Analytics, AI for Business, Business Management in Healthcare Organizations, and Constructivist Pedagogy. We are especially proud and excited to announce that TUJ Continuing Education has recently become Japan's first and only authorized provider of Amazon Web Services (AWS) Academy Cloud Foundations training in English.
While Continuing Education continues to explore new areas, we are also reinvesting in our traditional strengths to ensure we maintain our leadership in areas related to business, language development, and cultural studies. In business and management, for example, this includes new courses and workshops on topics such as Investment in Asia and Design for Agile Project Management, as well as completely redesigned courses on entrepreneurship (Starting Up Your Own Business) and International Business Cultures.
The future may be uncertain, but it holds exciting opportunities for us to demonstrate our resilience, and better ourselves and the world around us. TUJ Continuing Education is proud to serve our local community members, whatever stage of life, by providing accessible knowledge and tools with which they can take advantage of these opportunities. The world won't stop; neither will we.
Find out more…
Attend an information session to learn more about Continuing Education at Temple University, Japan Campus.
Check out Continuing Education's lineup of courses, seminars and workshops: