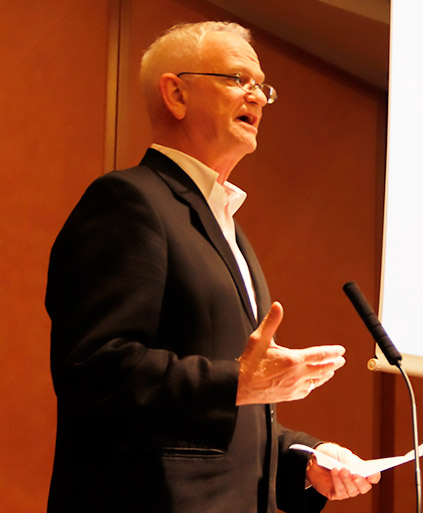 Student players and the head coach of the Temple University American football team joined a symposium held at the University of Tokyo's Hongo Campus on May 16, together with student athletes and coaches from the University of Tokyo and the University of Tsukuba. The panelists discussed the future of Japanese and U.S. college sports and student athletes. A panel made up of eight Japanese and American student athletes and coaches engaged in a brief but vigorous exchange of opinions for an audience of students, faculty and staff, college sports officials, media personnel, officials from the Ministry of Education, Culture, Sports, Science and Technology, the Japan Sports Agency, and people involved in sports businesses and sports organizations.
This panel discussion was a main component of Part 2: "The Future of College Sports and Student Athletes" Temple University co-organized with the University of Tsukuba Athletic Department, as part of a special symposium "The Future of College Sports" hosted by the University of Tokyo Division for External Relations and the University of Tokyo Sports Science Initiative.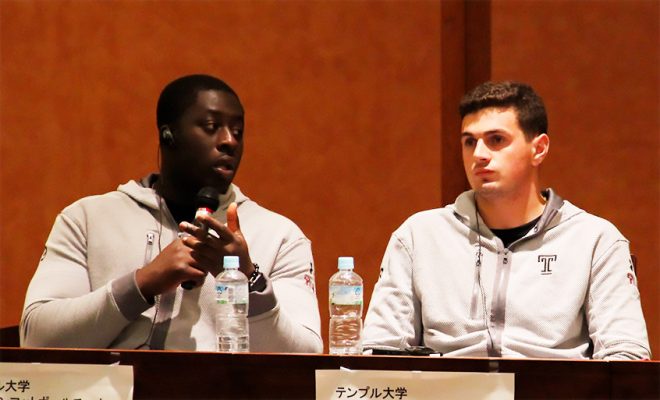 During the panel discussion, a video "A Day in the Life of a Temple Owls Student Athlete" was screened featuring one of the panel members, Temple Owls football quarterback Frank Nutile (a senior at Temple). It introduces the university's athlete support system, including a schedule that is worked out to the minute, with team meetings and practice from early morning, a student's class work or an internship in the afternoon, and training. In a lecture prior to this panel, Head Coach Geoff Collins talked about the team's policy of being "great" in both studies and sports, emphasizing leadership and academic excellence, and touched on the fact that the team's overall GPA was at an all-time high of 3.02 for the previous semester. Another panel member, defensive lineman Michael Dogbe (a Temple senior), looked back over his four years as a student athlete when he learned about life and developed strong ties with his teammates.
The University of Tokyo American football Head Coach Kiyoyuki Mori spoke about how he saw, through a clinic with the Temple Owls and the lecture by Head Coach Collins, similarities in team management philosophies and the culture of valuing both scholarship and sports. He expressed his enthusiasm for taking on college sports reform, saying, "If the University of Tokyo changes, Japan will change." A University of Tokyo student athlete also expressed his eagerness to expand the scope of how sports can change society, by using the university's ability to disseminate ideas. In addition, a student athlete from the University of Tsukuba spoke about how it became, in April this year, the first Japanese university to establish an athletic department. He spoke about being a pioneer and creating a better college sports experience for future student athletes. In addition, an injured athlete, another student panelist from Tsukuba, raised a voice for future improvements to the support system for student athletes in Japan based on her own experience of treatment and rehabilitation.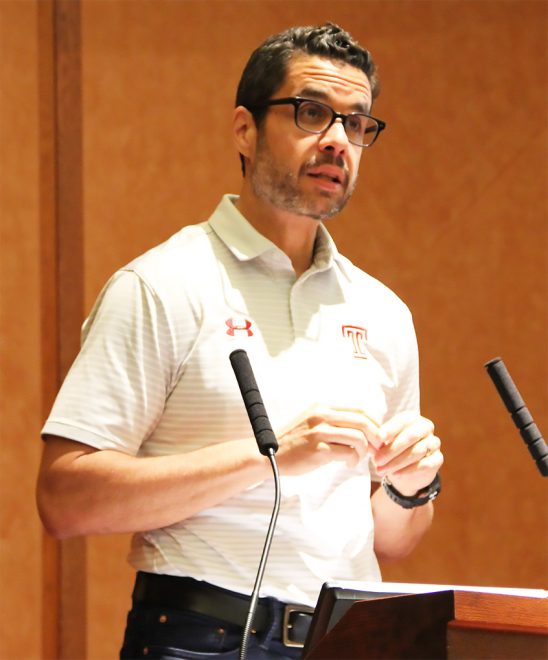 In a lecture preceding the panel discussions, Temple University Associate Professor Jeremy Jordan highlighted the positive impact of college sports on university branding, student recruitment, and the creating ties among current students, graduates and regional communities. He also touched on the functions and roles of NCAA (the National Collegiate Athletic Association), the model for the Japanese-version NCAA that the Japan Sports Agency is planning to launch later this year, and also on safety control measures that are recently of growing interest in Japan. In search for best practices for Japanese and U.S. college sports, Jordan has been part of the consulting team since 2016 for the University of Tsukuba and Dome Corporation in preparation for the establishment of Tsukuba's Athletic Department.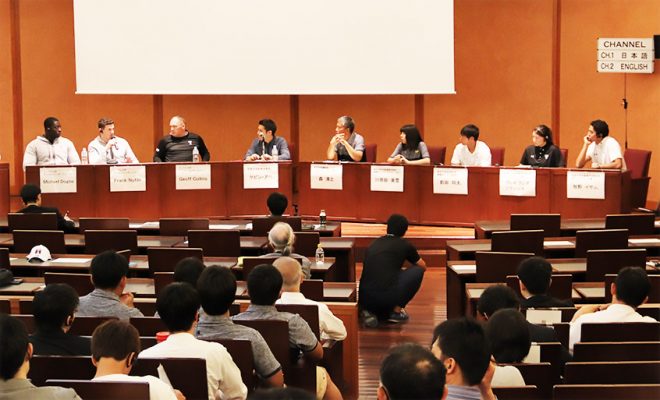 In addition to this symposium, this visit by the Temple Owls included clinics held at Hosei University (May 13) and Kansai University (May 19) which were both attended by 150-200 Japanese high school and college student athletes, and a mini clinic held at the University of Tokyo on the same day as the symposium (May 16). These interactions provided valuable opportunities for intercultural exchanges for both Japanese and American student athletes.
The Temple Owls student athletes, head coach and faculty members visited Japan from Temple Main Campus in Philadelphia for 9 days from May 12 to 20 as part of a credit-bearing course. The student athletes experienced cultural exchanges in Tokyo, Kyoto and Osaka, and learned about Japanese culture, sports and tourism industry. Head Coach Collins reflected that it was "a trip of a lifetime" for both the students and himself, and coming into contact with Japanese culture was "an eye-opening experience."
Video
Produced by: Temple University Athletics
Links