The Disability Resources and Services (DRS) department at Temple University, Japan Campus (TUJ) is committed to providing full and equal access to the university experience to students with a variety of physical and mental disabilities, learning differences and medical conditions. With a vision of inclusion and diversity, DRS is dedicated to promoting an environment which values students' diverse abilities. Keili Hamilton-Maureila, a TUJ junior communications studies major, interviewed DRS coordinator May Watabe.
The History and Future of Inclusion
TUJ follows Temple University Main Campus in creating a DRS department. Main Campus established services for students with disabilities in 1976 in compliance with the Americans with Disabilities Act and Section 504 of the Rehabilitation Act of 1973. The DRS department works to provide equitable accommodations to students with disabilities and works to remove barriers to a successful education for all members of the student body. Disability services are a relatively new but swiftly growing phenomenon in Japan. In April 2016, a new law was passed in Japan which bans discrimination against people with disabilities, extending requirements to the operation of businesses, schools and the workplace. According to the 2017 Annual Report on Government Measures for Persons with Disabilities, over9.3 million Japanese people live with disabilities.
An Advocate for Equal Opportunity
Mami "May" Watabe is TUJ's DRS coordinator, an advocate for students with disabilities. She has a range of responsibilities, including preparing students to receive a DRS accommodation letter through the online registration process. Through the online system MyDRS, a profile of the student and their specific educational needs is created, and then the student can send their personalized accommodations letter to select instructors through the system. The letter familiarizes the instructor with the type of accommodations that fit the student's needs, promoting inclusion while avoiding disclosing private information. Watabe works on a case-by-case basis, advocating for students, negotiating with instructors, and at times working together on cases with Temple University Main Campus DRS coordinators. One of the major goals when working on cases is the universal design of learning, applied in different ways to create solutions for a variety of learning abilities and skills. For example, the utilization of captioned videos works not only for students with hearing loss, but also for students who are more effectively visual learners. "People tend to learn from different stimuli," Watabe explains.
Assistive Technology and Progressive Solutions
Watabe says, "Educational systems in Japan and the United States have limited ways to measure anyone's ability and success of performance." She cites Assistive Technology (AT), hardware or software used to improve functional capabilities of students with disabilities, as an important part of improving the inclusiveness of a university environment. Watabe is working on a proposal this summer in preparation for TUJ's 2019 campus move to Showa Women's University (SWU). She hopes to bring new, more advanced forms of Assistive Technology to TUJ. The removal of exam time is another example of the types of solutions Watabe explores as the DRS coordinator. She believes that the speed with which a student can demonstrate learning on an examination is a different skill set from the learning.
Who is our DRS Coordinator?
Watabe was born and raised in Kanagawa, Japan., and growing up had always dreamed of exploring beyond Japanese society and culture. "I had to taste everything, feel everything, talk to everyone," she explained, reflecting the experiences of many of TUJ's own students. She majored in Japanese history in college in Japan. After graduating she pursued her love of traveling and ended up living overseas for 17 years. She traveled to China, where she went to language school, then travelled to England. She eventually stayed in the United States, where she not only worked on her master's degree, but began her career in higher education. "I always loved schools… I like the environment that creates something and provides possible solutions to society and the world." Working at the University of Vermont from 2014 to 2017, her work and training focused mainly on diversity and inclusion. May explained this as part of what brought her to the DRS coordinator position, as it helped her to understand a range of life experiences and perspectives. Her time at University of Vermont gave her the language to understand and explain her experiences as a woman of color in the United States, fueling her desire to work within all areas of diversity and inclusion, as well as to challenge ableism as the DRS coordinator. She hopes that in the future she can gain more experience and skills as the coordinator, and travel to other universities and schools to discuss her experiences. She hopes to create a community of educators who work with students with disabilities.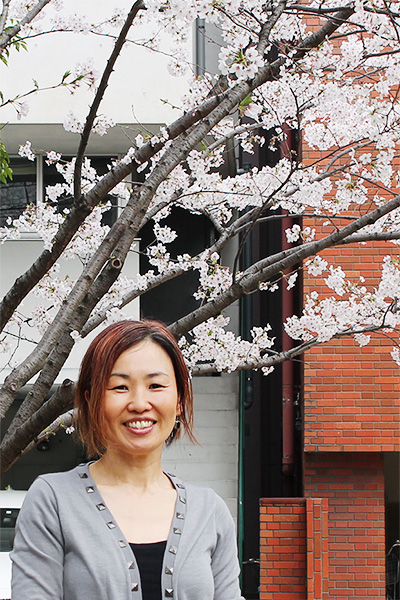 Celebrating a Diverse Student Body
To current and prospective students who may struggle with physical and mental disabilities, learning differences, impairment, or medical conditions, Watabe sends the message that it's OK to ask for assistance; it does not imply weakness. Disability Resources and Services at TUJ is dedicated to supporting all students with all ranges of abilities. While advocating for students' equal educational opportunities, DRS also wants to encourage students to become self-sufficient and independent. This is also among Watabe's personal missions as TUJ's DRS coordinator. "I'll do what I can for students to be successful in their given environments."
Student Writer's EYE
It was a pleasure to interview May Watabe and write this story about DRS. Watabe's personal story is inspiring, and gave powerful context to her role as the DRS coordinator. Inclusion in education is important. Every student should be valued for their unique abilities and encouraged to reach their potential. Temple University, TUJ, and TUJ's Disability Resources and Services departments fully embrace this idea. I feel that Watabe's motivations stemming from her education, life experiences, as well as her training in diversity, have created an exceptional opportunity for progressive changes to TUJ's disability and impairment resources, and present an impactful suggestion for future.
---
By Keili Hamilton-Maureira
Keili is a Junior Communications Studies major at TUJ. When she is not writing or working, she can usually be found watching reruns of American talk shows or telling her husband to stand still while she draws him.