The library at Temple University, Japan Campus (TUJ), located on the 4th floor of Azabu Hall, is a quiet refuge for students and faculty alike. The shelves are filled with a carefully maintained collection of academic materials and leisure reading, with over 60,000 books and numerous journals and periodicals.
Personal Selections, Made for Students
Head Librarian Tom Boardman takes great care in his selections for the library, reading 600-700 reviews a month as a part of his process. The TUJ Library's collection is constantly updated as majors, classes, and faculty change over time. Current specialties include linguistics, Asian history, art and photography, and more, dedicated to both the students' needs and requests by faculty. "Our collection is very much curriculum-driven," explains Boardman, "and we are lucky to have access to all the Main Campus [material], as well." The library's link to Main Campus in Philadelphia is a relationship unique to TUJ as an international branch campus, and extends their abilities as a full-service library. The students and faculty are able to request that Main Campus send them articles and textbook chapters, and provide students remote and on-site access to Temple's wealth of online databases and resources. Boardman stresses the importance of online resources, and often visits classes to demonstrate database usage and resource availability. "There is just so much on the portal," Boardman said excitedly, "For example, if you're a movie fan – to go into Kanopy, which is streaming international video – that is just amazing, and every student has access to that."
Community Values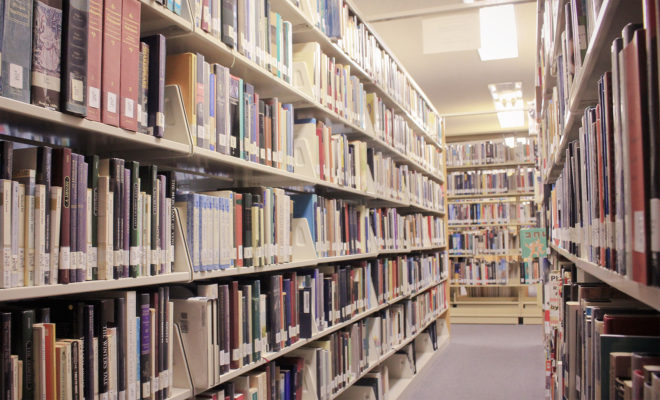 Even with its close ties to Temple Main Campus, the TUJ library is still able to exercise independence in its selection of material. While most research materials have gone online in recent years, Boardman explained that the library makes conscious decisions to keep certain materials available in paper, such as those related to art and photography as well as subscriptions to linguistics materials. These choices support the library's community ties, as the library also lends material to Minato-ku libraries. And residents of Minato-ku are able to apply for a TUJ library card through the TUJ – Minato-ku Guest Patron Program, which provides residents with the ability to check out books and videos.
A Labor of Love
Besides its collection of books, periodicals, and extensive databases, the library supports faculty in other ways. Library tours are given to TUJ classes. The library tries to maintain at least one reserve copy of every textbook used at TUJ. And when new faculty come in or a new course is offered, Boardman asks what materials they need specifically for their courses. "We expect our faculty to take an interest in collection development," he said. In searching for materials relevant to new TUJ courses, he also cross-references syllabi of similar courses at other universities.
The Man Behind the Books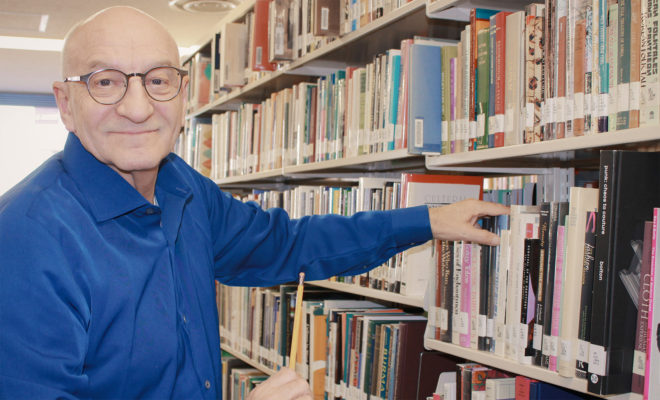 So who is Tom Boardman, the head librarian responsible for selecting and maintaining TUJ's unique and extensive collection? Born and raised in Wisconsin, Boardman has moved around a lot, in that way sharing a similar experience to TUJ's own global student body. After graduating with his masters from the University of Oregon, he moved to Fairbanks, Alaska and worked as a librarian there for ten years. Needing a change of scenery, he found himself working at San Francisco Public Library. He traveled to Japan for the first time in the 1990s, discovering his love for Tokyo. "To me, Tokyo is the ideal city," he announced. Luckily, during his job search in Tokyo, TUJ had job openings, and he became the school's librarian in 1992. Though other American universities existed in Tokyo then, Boardman affirmed Temple's unique commitment to its Tokyo branch campus, "Temple has made a considerable investment in its facilities here."
Flipping Pages Towards the Future
As TUJ concludes its 35th anniversary, Boardman reflects on TUJ's past changes and his hopes for the future. The fully equipped library has been in place for over 30 years, and follows Temple Main Campus's lead when it comes to technological advancements. Boardman expressed his hope that the TUJ library will remain a quiet, analog refuge, as TUJ prepares for its move in 2019, to share a campus with Showa Women's University (SWU) in Setagaya-ku, located in central Tokyo near Shibuya.
The TUJ library is Boardman's labor of love. It provides not only extensive resources and materials for study but also demonstrates a commitment to meeting the individual needs of students and faculty. Walk into the library and you'll be met with a friendly face and a helping hand.
---
By Keili Hamilton-Maureira
Keili is a Junior Communications Studies major at TUJ. When she is not writing or working, she can usually be found watching reruns of American talk shows or telling her husband to stand still while she draws him.