Students of Temple University, Japan Campus (TUJ) engaged in a series of events at the annual Spirit Week between November 7-11, 2022. Activities included cultural events, dance and music performances, panel discussions on careers, and film screenings.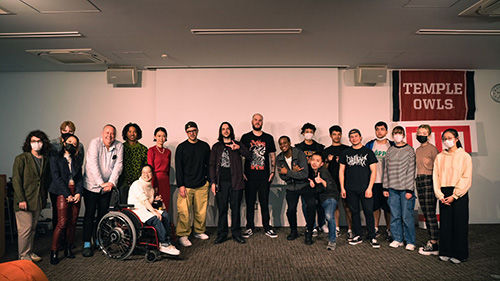 Members of the Emerging Leaders Program (ELP), which is aimed at developing leaders fully prepared to succeed on the global stage, facilitated events, coordinating participation by TUJ's clubs and organizations. Spirit Week has become a full one-week event since last year. More students took part in activities this year as undergraduate student enrollment climbed to a record high in the fall semester amid the easing of restrictions related to the coronavirus pandemic.
This year's activities included events that featured the 1980s in order to commemorate TUJ's 40th anniversary. Also featured was a panel discussion in a career event with invited TUJ alumni, a guest speaker from the Setagaya city council, and a TUJ film screening event with a lecture by acclaimed screenwriter David N. Weiss.
The TUJ Talks 2.0 event, Temple's version of "TED talks", took place on the first day of Spirit Week at Parliament Student Lounge on November 7. Students spoke on a wide range of topics, including internationalism, leadership, identity and tips for improving lifestyle. Students also performed music and dances.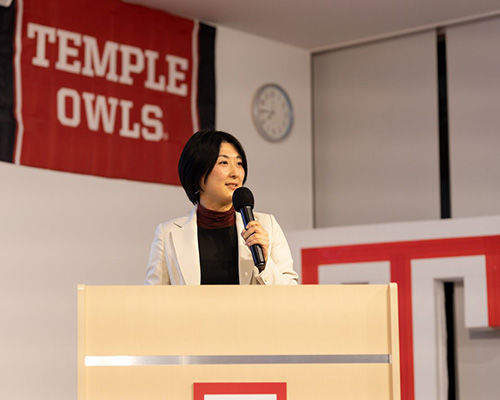 Risa Kamio, a Setagaya city council member, took the podium as a guest speaker, sharing her experience working as a Japanese language and culture teacher in the U.S and how she introduced and developed a Japanese quiz bowl with American high school students studying Japanese. She also cited the low participation rate of women in Japanese politics based on numerical data and introduced her own experiences as a politician and her efforts in community development.
Kamio felt honored to join the event as a guest speaker. "I'm happy to have been involved in such an international yet homey event in Japan and in Setagaya, where students expressed their thoughts through presentations, songs and dances," Kamio wrote on her social media. "I hope many people will experience this event (TUJ Spirit Week)."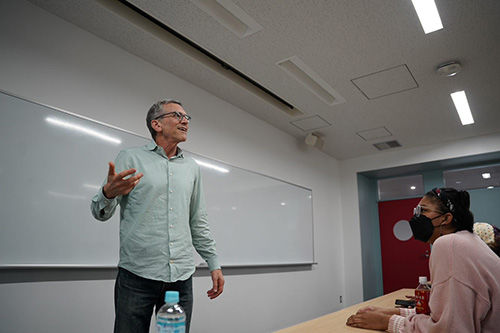 Current students and TUJ alumni engaged in the first of the series of "Life After TUJ" events held on the evening of November 10. TUJ alumni from various workplaces – a newspaper company, a recruitment firm, a securities company, and a financial institution – shared their experiences in a panel discussion. Students asked questions during the Q&A session seeking tips to prepare for their potential job searches. They received advice on how to improve their communication and networking skills for their job-hunting activities.
Spirit Week ended with a special screening event, on the evening of November 11. The event kicked off with a music performance by TUJ student and award-winning singer L. She sang five popular songs from the movies. After L, five TUJ-bred film directors took the stage to present their films, ranging from comedy to thriller.
Before the screening event, David N. Weiss, the writer of Shrek 2 and several episodes of Rugrats gave a lecture. He talked about his career, animation and future projects. Students had opportunities to ask questions, including how he collaborated with his partner to work on a project.
2022 Spirit Week Events
November 7
Wear Red Day + TUJ Talks 2.0
Students were asked to wear something red or Temple gear to promote school spirit. The TUJ Talks event featured speeches, music and dance performances, and guest speakers.
November 8
Culture Day
The theme for the day was intended to celebrate the diversity that TUJ prides on with a series of events that included craft workshops, and the food of various countries.
November 9
Blast from the Past
TUJ celebrates its 40th anniversary this year. The event aimed at bringing back the memories of the 1980s, as TUJ was established in 1982. Among other activities, students were asked to dress in their 80s outfits and participate in a trivia event featuring the decade.
November 10
TUJ Embracing Autumn
The event focused the season with small fall-themed events and games. In the evening TUJ hosted a Thanksgiving dinner followed by the "Life After TUJ" panel session featuring TUJ alumni.
November 11
40th Anniversary Film Screening Event
Five films were presented by their directors. TUJ student and award-winning singer L sang songs from the movies. Before the screenings, David N. Weiss gave a lecture.
Other related stories