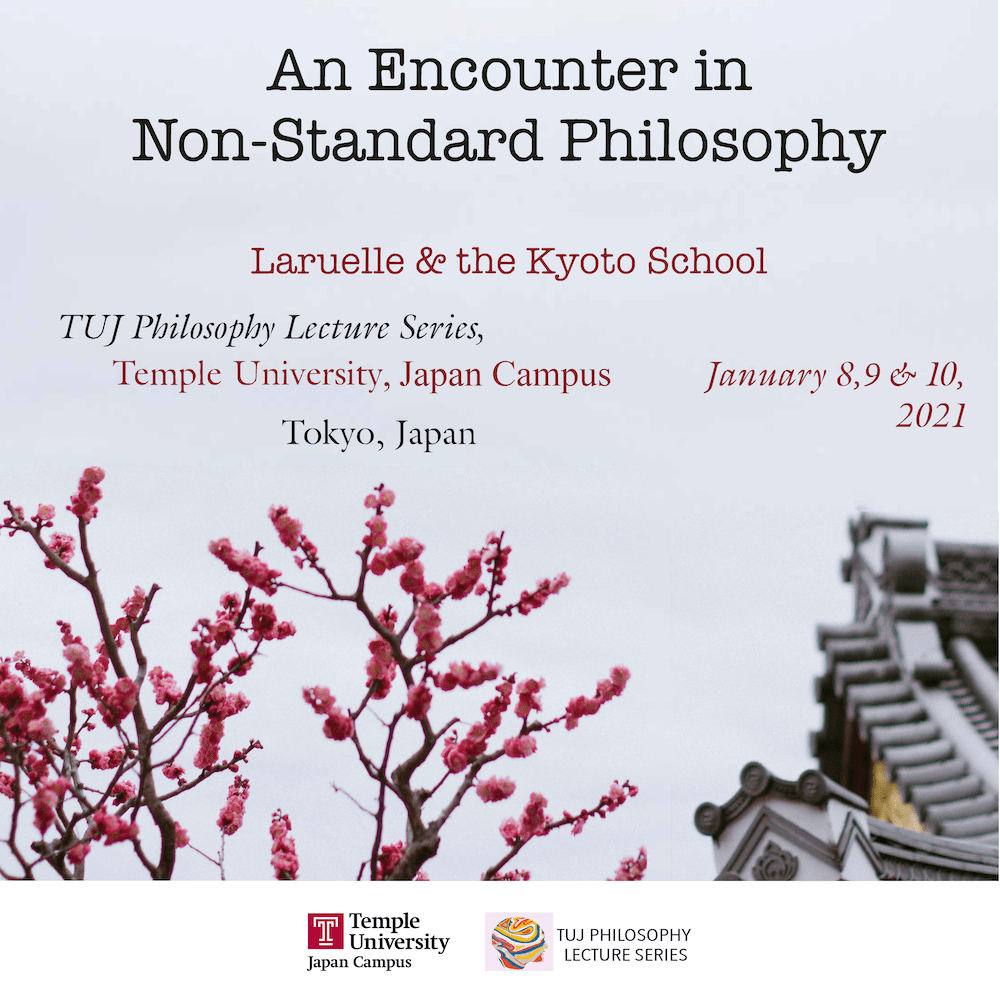 This conference examines themes, methods, and constructive possibilities linking François Laruelle's non-standard philosophy with the work of the philosophers of the Kyoto School including but not limited to Kitarō Nishida, Hajime Tanabe, Jun Tosaka, Keiji Nishitani, and Miki Kiyoshi. Topics for proposed papers are free to focus on metaphysical, epistemological, ethical, or aesthetic questions and may involve comparative studies of Laruelle and specific thinkers from the Kyoto School regarding such themes as:
Shinran Buddhism
Basho
Nothingness
Zen
Mu
Radical Immanence
Sufficient Philosophy
Philosophical Decision
The Real and the One
KEYNOTE SPEAKER: Anne-Françoise Schmid (Paris Tech)
The conference will be held online via Zoom, please use the registration link provided. Papers presented at the conference will be eligible for publication in a proposed edited volume. Additional contributions to the volume will be solicited after the event.
This conference is organized by Professor Jordanco Sekulovski (TUJ) and Professor Rocco Gangle (Endicott College, US).
Date:

January 8, 9 & 10, 2021

Time:

Friday, January 8th, 2021
JST 9pm (Japan Standard Time ASIA)
EST 7am (Eastern Standard Time US)
CET 1pm (European Standard Time Paris/Berlin EU)
Saturday, January 9th and Sunday, January 10th, 2021
JST 7pm (Japan Standard Time ASIA)
EST 5am (Eastern Standard Time US)
CET 11am (European Standard Time Paris/Berlin EU)

Venue:

Online (Zoom)

Admission:

Free

Registration:
The TUJ Philosophy Lecture Series is a non-profit forum of Temple University, Japan Campus (TUJ) for the promotion of critical thinking. The lectures are free, open to the public, and feature speakers from various universities around the world. The lecture series is a great way to learn about recent research in philosophy and in the humanities as a whole.