Adjunct Professor in international business studies B. Anthony (Tony) Bedard has been named "Teacher of the Year" for two consecutive years.
For the 2020 award, students voted during the summer and fall of 2019 and spring of 2020. In past years the recipient was announced at the graduation ceremony in June, but this year the ceremony has been postponed until December due to COVID-19.
Bedard received "virtual congratulations" online before the start of fall semester.
Associate Dean for Academic Affairs George Miller notes,
"We have a lot of amazing professors who are beloved by students, so to be honored as the Teacher of The Year two years in a row is a huge feat. It shows that Professor Bedard is consistent in his high quality of teaching, and he continues to make connections with students.
When you see him interacting with students, it's as though they are peers or colleagues. He treats students with respect, while also making classes fun and interesting. That's a tough combination, and few can pull it off as well as Professor Bedard does."
Bedard shared his excitement while looking back on his experiences and interactions with students.
– How do you feel about getting this award for two consecutive years?
Winning this award, especially since it is based on student choice, is the highlight of my professional career. To be recognized by those who you serve is, I believe, the greatest honor one can attain. Winning twice was both a surprise and a humbling experience. There are so many others on the TUJ faculty deserving of this award. Their mentoring and support has allowed me to flourish. Winning is as much, if not more, a reflection of that mentoring and support as it is of my teaching. I never knew I was a teacher. TUJ has shown me that I am. I will always be indebted to those who gave me the chance to discover this calling.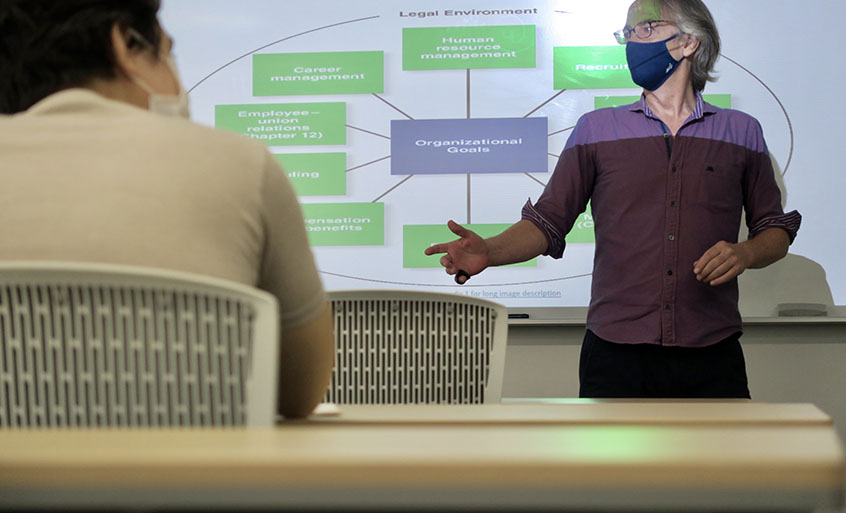 – How have you been enjoying teaching at TUJ? What is the best part?
TUJ is just a great environment in all ways, but it is the students that make it tick. The diversity in perspectives, experiences and values creates exceptional challenges and opportunities for anyone teaching here. You have to be on your toes at all times. I couldn't ask for a better place to be. A university is a place of discovery. So, for me, it's not about students learning what I believe to be true, but rather what they do. So, all I really need to do is to get them searching for answers within themselves and then to open up to different perspectives. It seems one can win awards for just getting people to think.
– What is your background and teaching at TUJ?
I've worked in private industry and in a variety of managerial roles for about 30 years. A great deal of my graduate education came during that time. I'm a great proponent of life-long learning. Among other degrees, I have an MBA in Strategy and an MSc in Organizational Psychology. I'm also a Certified Public Accountant (CPA) and Chartered Global Management Accountant (CGMA). But ultimately, it turns out, I'm an educator. I started teaching continuing education at TUJ in 2007, and in 2012 I was asked to teach an undergraduate course. It grew from there. Most recently, I've started teaching in the Masters in Management program. I think this progression is a great reflection of what TUJ is all about – opportunity. I'll always be very thankful for that.
<Talk Event featuring Tony Bedard, Teacher of the Year 2019 & 2020>
Date and Time:

Friday, October 16, 2020 18:30-20:30

Style:

Hybrid (in-person on campus up to 30 and online via ZOOM)

Registration:

For TUJ students, faculty, and staff, sign up from the form.
For non-TUJ guests, sign up at tujresearch@tuj.temple.edu
Co-organized by TUJ undergraduate program and International Business Studies