The Challenge
Six weeks of development and preparation culminated in a final (online) pitch to a Silicon Valley startup by five students at Temple University, Japan Campus (TUJ). Students jumped at the challenge proposed by IT startup Vui.ai (https://www.vui.ai/), 8,000 kilometers away in California, to come up with a fresh product concept utilizing Voice Twitter. The student team leveraged the online constraints imposed by COVID-19 into a valuable learning experience at TUJ.
The Players
TUJ Adjunct Professor Mark Ford introduced these students in his "Introduction to Asian Business" class to two of his former colleagues: Dashen Fan, founder and CEO of Vui.ai, and Kelly Xie, aerospace engineer and senior executive, both based in Silicon Valley.
None of the TUJ students had an engineering background, adding to the challenge. The culturally diverse TUJ student team – with their different views, values, and work styles – was led by Toshimasa Hatori, a TUJ freshman* in International Business Studies (IBS). Hatori recalls the experience as "one of a kind and once in a lifetime."
With the startup executives' coaching, the team quickly adapted to the pace of real-world product concept development, finding themselves relevant roles and responsibilities. TUJ sophomore* Barbra Madamombe, an IBS major from Zimbabwe (and an accountant by training), acted as "CFO." TUJ junior* Alan Sanchez, an IBS major from Mexico, acted as "CTO." TUJ sophomore* Yuna Kimura, an IBS major from Japan, acted as "COO/CIO." TUJ freshman* Kevin Gong, a General Studies major from New Zealand, acted as "CMO." Team leader Hatori from Japan, acted as "CEO."
An Emerging Concept — "Voice Snapchat"
The team collaborated using Zoom meetings. Through six weeks of work, from product ideation and market entry studies to financial and strategic analyses, their "Voice Snapchat" concept was born. It enables users to take pictures, send messages, and accomplish other functions with voice commands.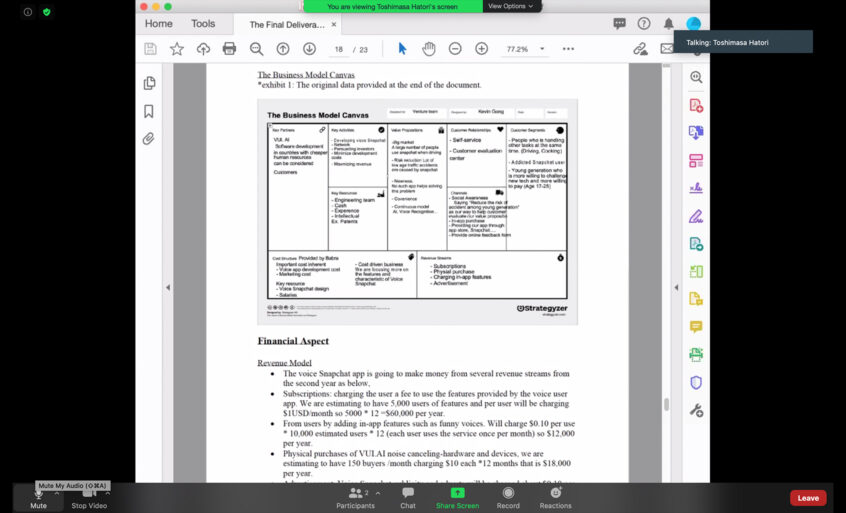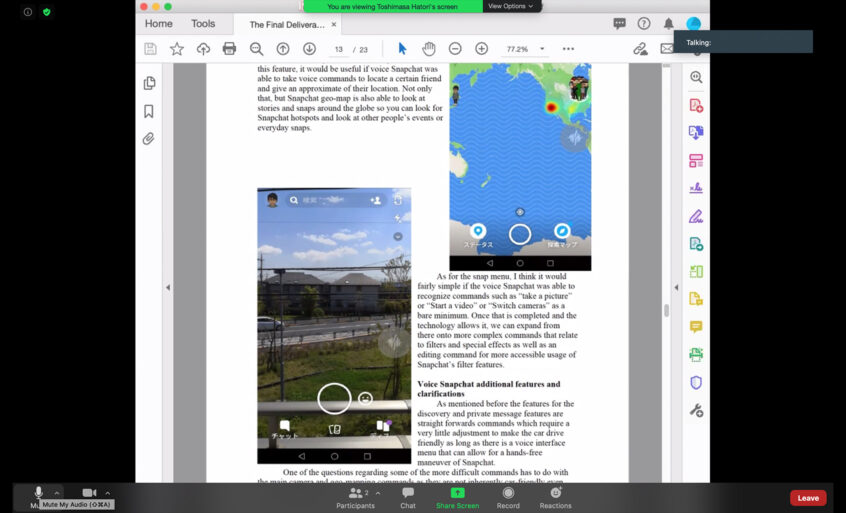 Learning about Themselves — Pitch Day
The students pitched their "Voice Snapchat" idea in front of three judges, senior executives from the industry whom Professor Ford had invited to participate. The judges pointed out the team's "lack of organization and lack of a presentation." The team learned scrolling MS Word documents would not work on Zoom, or in a fully online setting. One of the judges commented that their job was to "help the students to discover problems themselves, because we don't have all the answers." Learning through experience is a valuable practical lesson for the real world.
"The pitch day is a living laboratory for students to collect data about themselves," said Professor Ford. "The members of this team are growing as compassionate leaders. They are ready to co-create in complex, multicultural situations, such as in business in Asia, or whatever else they decide to do in life."
Director of International Business Studies William J. Swinton adds, "Part of the DNA of International Business Studies at TUJ is integrating perspectives from outside the classroom. This works well for students whether they are on campus or on Zoom." Bringing a real world example along with corporate expertise into the classroom inspires student learning and adds invaluable opportunities to TUJ experiences.
---
*Students' year at TUJ at the time of this project (spring semester 2020).