Temple University, Japan Campus (TUJ), the only four-year American university in Japan, is committed to providing a platform for open-discussion in various arenas. This series, organized by adjunct professor Jordanco Sekulovski, is one of such faculty-led initiatives in recent years.
---
By Jordanco Sekulovski
The TUJ Philosophy Lecture Series is a forum at Temple University, Japan Campus (TUJ) for the promotion of critical thinking. The lectures are free, open to the public, and feature speakers from universities around the world. The lecture series is a great way for both students and researchers to learn about recent research in the field of philosophy and the humanities as a whole.
TUJ adjunct professors Dr. Takeshi Morisato and Dr. Jordanco Sekulovski started the lecture series in 2017 as a way of offering TUJ students opportunities to learn more about various philosophical issues and ideas currently absent from the TUJ curriculum. The aim of the series is to introduce scholars in the humanities from all around the world and promote TUJ as a venue for interdisciplinary philosophical work in Japan. TUJ is conveniently located in Tokyo's Azabu district, which makes TUJ a perfect place to meet, share and discuss ideas.
So far, the series has featured guest speakers from the U.S., Belgium, Germany, Estonia and Japan and approximately a hundred people attend each lecture. Talks are recorded and edited,with videos available on the TUJ Philosophy Lecture Series official webpage as well as on the official TUJ YouTube channel.
Through the lecture series, students to learn more about philosophical ideas, and feedback has been mostly positive. We support students in their desire to learn. Studying philosophy involves critical thinking and writing skills that are useful in almost any future profession the students may choose.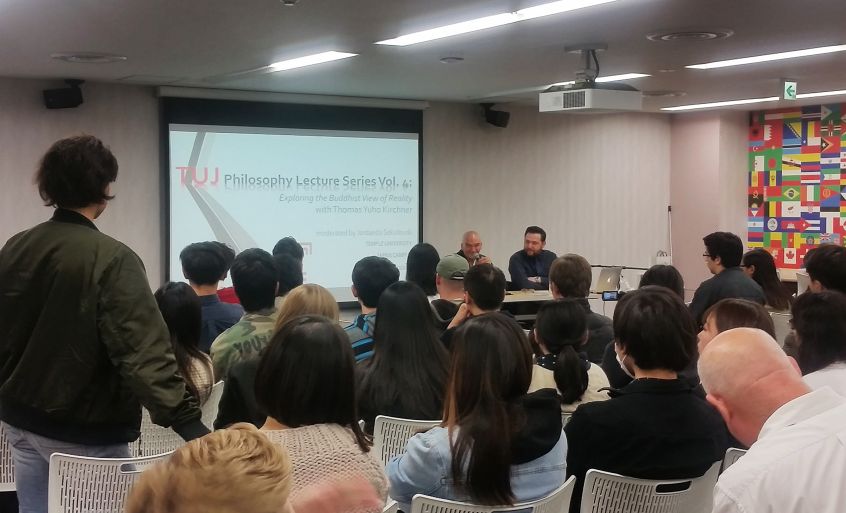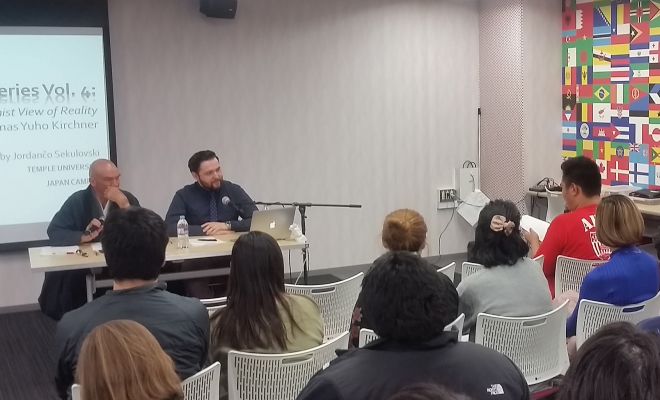 Our activities have been and will be developed through collaboration with other universities and research institutions. Currently we are working with Waseda University's Tokyo Philosophy Project. Last June, an international conference entitled "Between the Visible and the Invisible" was organized together with Université Libre de Bruxelles and the University of Tokyo Institute for Advanced Studies on Asia.
Contact: philosophy_series@tuj.temple.edu