Temple University, Japan Campus (TUJ) holds its 13th annual student film festival on Friday, April 13 in The Parliament Student Lounge at TUJ Azabu Hall. The student-organized festival will feature eleven student short films: three documentaries, three comedies, three music/experimental videos, and two dramas. It is open to the general public and is free of charge. All films have Japanese and/or English subtitles and have been filmed, edited and captioned by TUJ students as part of a Communications Studies course.
Students taking this credit-bearing course produce the event and are responsible for all aspects including the call for entries, film selection, promotion, and event management. Assistant Professor Karl Neubert has been directing and supervising this film festival since 2005 as part of the Communications Studies course. Student evaluation is based on subtitling, event planning and execution, and overall management.
Any TUJ student and alumnus were eligible to submit an entry regardless of their major. Filmmakers come from the U.S., Japan, The Philippines, Nigeria, China, Germany and Mexico. The film festival received three entries from faculty, which will be featured in a pre-event.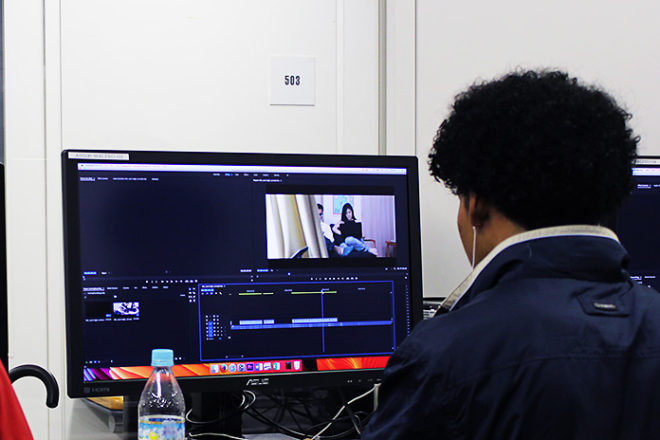 This year, TUJ welcomes Chris Fujiwara, who will join the festival as a judge. Fujiwara is a member of multiple film critic societies, and was artistic director, from 2012 to 2014, of the Edinburgh International Film Festival, which is the oldest and longest-running film festival in the world. In addition, he has lectured at Tokyo University, Yale University and Rhode Island School of Design on film aesthetics and film history. At this year's festival, awards will be given for three Best Pictures, one Audience Award, and one Best Cinematography. The Award for the Best Cinematography is donated by Panic Ball Productions, a company established by TUJ alumni.
Pre-Event
Screening of TUJ faculty short films
This pre-event will feature short films from TUJ faculty members Louise Rouse, Irene Herrera and J.R. Lipartito. Beverages and light snacks will be served.
Date/Time:

Friday, April 6, 2018 19:00-21:00 (doors open 18:30)

Venue:

TUJ Azabu Hall, The Parliament Student Lounge (Access)
Admission free. Open to the public. No registration required.
TUJ Student Film Festival 2018
Date/Time:

Friday, April 13, 19:00 – 21:40 (Door opens 18:30)

Venue:

TUJ Azabu Hall, 1F, The Parliament Student Lounge (Access)
Free admission
No pre-registration required
Snacks and beverages will be served including snacks for vegetarians, vegans and people on gluten-free diets
Program
All films have subtitles in Japanese and/or English.
| Program A | Genre | Filmmakers' Nationalities | Duration |
| --- | --- | --- | --- |
| Pony | Music Video | U.S.A. | 4 min 30 sec |
| Lost in Sight | Drama | The Philippines | 18 min |
| Tagami Pottery | Documentary | U.S.A. | 3 min |
| Black in Tokyo | Documentary | U.S.A./Nigeria | 10 min 20 sec |
| Tidal Waves | Music Video | The Philippines | 3 min 40 sec |
| Program B | Genre | Filmmakers' Nationalities | Duration |
| --- | --- | --- | --- |
| Drowning | Experimental | Japan/U.S.A., The Philippines | 6 min |
| Tourist Troubles | Comedy | China | 5 min |
| Yoshitoshi Kanemaki | Documentary | Germany | 4 min 30 sec |
| Diego | Suspense/Comedy | The Philippines, Mexico/Japan | 8 min |
| An Occurrence | Drama | U.S.A. | 10 min |
| Rock'n Rollers | Comedy | U.S.A. | 3 min |