On July 7, the final screening round for the "2017 Innovative Marketing Award" was held at Temple University, Japan Campus (TUJ). After rounds of evaluations by business people from Japan and abroad, the team consisting of Mohamed Elwageeh (a junior from Egypt majoring in International Business Studies), Andrea Cattaneo (a freshman from Italy double majoring in Economics and Psychological Studies), and Hanzla Saleemi (a sophomore from Pakistan majoring in International Affairs) was selected for the top award.
The first IMA was established through collaboration among the TUJ Dean's office, other staff and faculty under the sponsorship of the "Foreign Community Supporting Committee (FCSC)." The FCSC, which celebrates its 60th anniversary next year, is a volunteer organization made up of foreign business people residing in Japan, and ambassadors to Japan from various countries. It supports the YMCA's Challenged Children Program (CCP) through charitable events and fundraising. FCSC Chairperson Midori Kaneko also serves as TUJ Board of Overseers chairperson.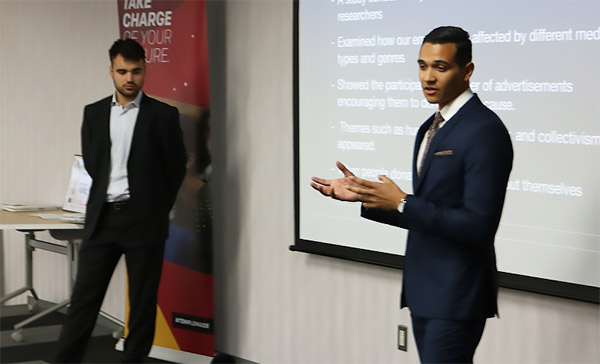 The challenge of the competition was to propose an "innovative marketing plan" targeted for both current students and alumni of TUJ. The entry conditions included: (1) a team must have at least three members, (2) at least one team member must be an undergraduate student, (3) the team must have a supervising TUJ faculty or staff member. Six teams entered the competition. After coming up with a plan through research and workshops, two teams, consisting of TUJ students and alumni, were selected at the preliminary round held at the end of June.
At the IMA final screening round, each team gave a 15-minute presentation followed by a 15-minute question and answer session in front of seven judges from the FCSC and YMCA. Both teams used the allotted time to describe their marketing plans, which included their target, fundraising mechanism, communications strategy, estimated result and associated cost.
The winning team proposed a plan to use cooperation between individuals affiliated with international and/or Japanese schools and their PTA community. Elwageeh, the team leader for the winning team, said he felt "ecstatic!" about the win. He came to Japan with his family 10 years ago and chose to attend TUJ, where he can obtain a degree from an American university while living in Japan. He stayed in Japan to continue studying toward a degree even after his family returned to his home country. For the marketing plan this time, Elwageeh led the team in putting the proposal together and Cattaneo focussed his work on the financial aspects, while Saleemi was in charge of research and the IT aspects.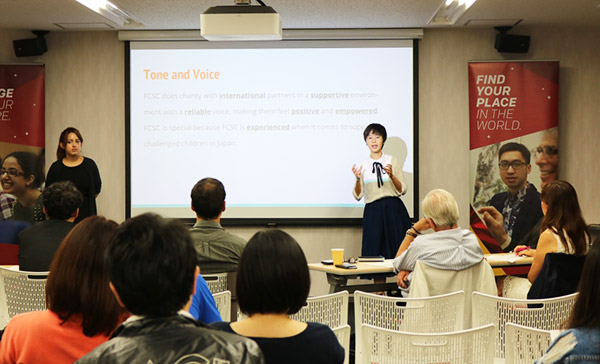 The runner-up was a team consisting of both current and former students: Van Ha "Noah" Nguyen (class of 2017, an art major from Vietnam currently working at an IT company), Melanie Sweeney (class of 2016, a Japanese Language major from the U.S. currently working at an IT company), and Shoko Ishii (a senior from Chiba Prefecture majoring in Economics). The team presented their plan to use a point system in online shopping.
FCSC judges praised the quality of both plans that were presented, and added that "We (the FCSC) are interested in using both (plans) in the future."