Temple University, Japan Campus (TUJ) held its 30th anniversary symposium entitled "Liberal Arts: Developing Competency, Leadership and Global Citizenship" on Friday November 16 at the U Thant International Conference Hall of the United Nations University. The event was attended by approximately 300 people from a broad spectrum of Japanese society including education, business, the media and the general public.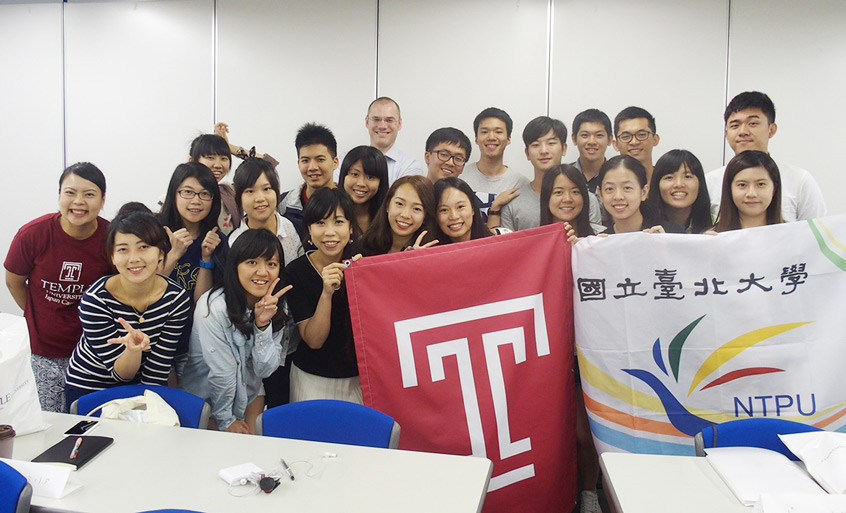 Each of the symposium's three distinguished panelists were chosen to represent the varying views of the public, business and education sectors, and each made a short presentation:
"Outside the Box or Boxed In? Specialized Training or Liberal Arts Education" by Ambassador Robert M. Orr, Executive Director, Asian Development Bank
"Major Deficiencies of Japan's Higher Education Institutions" by Dr. Yutaka Morohoshi, Professor, J.F. Oberlin University
"Leadership in the Global Era" by Mr. Yoshiaki Fujimori, President & CEO, LIXIL Group Corporation
The presentations were followed by a lively Q&A and discussion moderated by TUJ Dean Bruce Stronach.
After the symposium, about 200 participants joined the reception to celebrate TUJ's 30th anniversary.
TUJ was established in 1982 in Tokyo as the first foreign university's Japan campus. In the 30 years since, while approximately 40 foreign universities opened and later closed their branch campuses in Japan, TUJ has established a unique position in the landscape of Japanese higher education. Through the combination of a liberal arts approach characteristic of an American university and an international environment characteristic of an overseas branch campus, TUJ has been producing graduates who are sought after not only in Japan but also worldwide.
At TUJ all classes are taught in English; classes are small with an average of 20 students per class; and students come from more than 50 countries. In such an environment, critical thinking and creative thinking skills are developed and "deep learning" – the essence of liberal arts education – is achieved.
In recent years TUJ has been increasing its contribution to Japanese society through education by actively partnering with Japanese universities. Such initiatives include a credit exchange program recently started with Musashi University.
Another reason for TUJ's success in the past 30 years is Temple University's strong commitment to international education. Temple, a Pennsylvania state-related university, has 128 years of history. It opened its first overseas campus in Rome in 1962 and in Tokyo in 1982. Beginning with the tenure of former president Ann Weaver Hart, Temple has vigorously expanded its international programs to more than 120 programs now in more than 30 countries.
Internationalization will continue to be one of Temple University's most important initiatives, and the importance of TUJ's role in Asia and in the internationalization strategy of Temple University is expected to grow even larger.
In addition to the symposium, TUJ has held a number of anniversary events this year. The 30th anniversary student festival took place at Tokyo International School on October 20 and was a major success, attracting more than 700 visitors from the community. A lecture series for undergraduate students entitled "Careers in Your Field" featured three guest speakers including Mr. Jasper Cheung, CEO of Amazon Japan; Dr. Kuniko Inoguchi, member of the House of Councilors; and Ms. Yoko Wakatsuki, producer at CNN. The series provided students with opportunities to learn from the life stories of the distinguished lecturers.
TUJ is committed to making continuous contributions to Japan – producing globally aware graduates and working for the overall betterment of Japanese higher education – by taking advantage of its unique position as an American university's Japan campus.