Temple University (Pennsylvania, USA) has signed an affiliation agreement with a prestigious Korean university, Sejong University (世宗大学校), to establish the Sejong-Temple Undergraduate Program. Students who enroll in this program will spend the first year at Sejong and the remaining three years at either Temple's Main Campus or Japan Campus. Upon successful completion of the program, students will earn a Temple University bachelor's degree.
Under this program, students will spend the first year at Sejong taking undergraduate courses based upon Temple University's first year curriculum while taking English language preparation classes. Upon successfully completing the courses and achieving English language proficiency, students can then directly enroll in Temple's undergraduate program at its Main Campus or Japan Campus from the second year. Those students who go to the Main Campus are eligible to apply for Temple's merit-based scholarships once enrolled at Temple.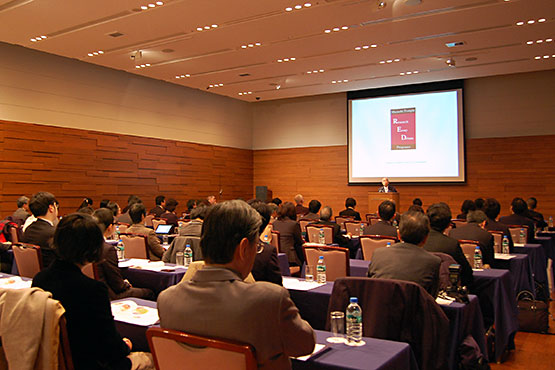 President Woo-Hee Park of Sejong University (left) and President Ann Weaver Hart of Temple University (right) at the signing ceremony at Sejong on January 9.
Students who meet the program's GPA requirements but do not meet its language requirements may enroll in either the Main Campus's Intensive English Language Program or the Japan Campus's Bridge Program.
This Sejong-Temple Undergraduate Program will be an attractive option for Korean students who wish to earn an American university degree, since it enables them to make the necessary preparation for study abroad in Korea while taking undergraduate credit courses that can be easily transferred to Temple University from the second year. Temple University has eight campuses inside and outside the US, including its Japan Campus, and offers more than 100 undergraduate majors in 17 schools and colleges. Temple will be highly valued as a study abroad destination. The estimated first year (2012) enrollment into this program is approximately 100.
In addition to the above 1+3 program, President Ann Weaver Hart of Temple and President Woo-Hee Park of Sejong signed three other agreements in order to facilitate faculty and student exchanges and study abroad. These exemplify an extension of Temple's overseas initiative as it vigorously pursues its internationalization plans.