Elyka Nemoto had a busy first week as a new student at Temple University, Japan Campus (TUJ). The sophomore transfer student and international business major got a guided tour of TUJ's campus in Tokyo and the Setagaya-ku neighborhood. She attended lectures and participated in small-group discussions exploring the nature of leadership. She spent a couple of hours learning about servant leadership from TUJ Dean Matthew J. Wilson. Also, she met a variety of TUJ staff and student leaders, including administrators representing areas from student services to counseling, representatives of student government and presidents of clubs and student organizations, each of whom shared their visions for the future of TUJ. Nearly every day, leaders joined Nemoto and other participants of the program for lunch to chat about what it means to be a campus leader.
And she and other participants did all of that before other new students had even started their classes or orientation activities. Nemoto is one of 16 new students selected from approximately 100 applicants to join the first class of participants in TUJ's Emerging Leaders program, an innovative initiative created to give a group of incoming TUJ undergraduate students each year an intensive, immersive, hands-on leadership training experience. The goal: to develop the next generation of student leaders at TUJ who then go on to graduate fully prepared to succeed on the global stage.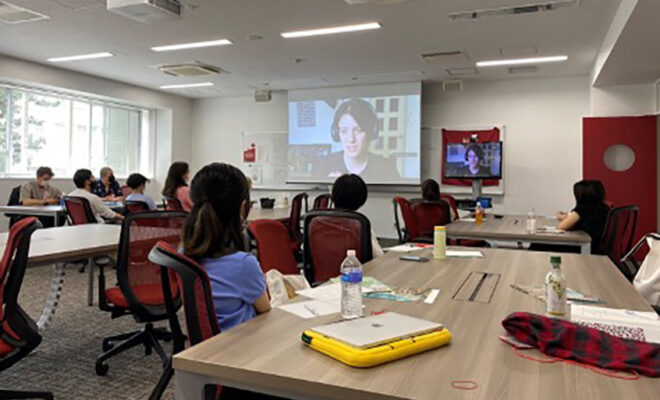 Students selected to be Emerging Leaders arrive before their classmates each fall to begin the program, which consists of three core components: a three-credit class in which students learn fundamental theories of leadership; a series of intimate meetings with influential players in the Tokyo community in a wide range of fields, from business to government; and opportunities to put the lessons they learned in the classroom to the test in the real world, culminating in a final project in which each Emerging Leader will take the lead on planning and executing activities of TUJ's Spirit Week celebrations, a festival of student life which is scheduled to start at the end of fall semester.
When Nemoto got the email announcing the program's debut, she knew immediately that she wanted to apply. "I have always been interested in how to be a proactive leader—a well-rounded person who knows how to guide people," she said. "I want to be someone who's able to lead a team if I need to and feel confident in that position."
TUJ's Emerging Leaders program was inspired by an award-winning leadership program at the University of Akron (Ohio, USA) that Dean Wilson became involved in during his tenure as university president there. The TUJ program's focus on experiential learning—a core attribute of TUJ's curriculum—makes it unique among Japanese universities.
"We don't believe that the traditional, lecture-style model of education, with a professor standing in front of a packed class of passive listeners, is the best way to engage students when it comes to developing 'soft skills'—I call them essential skills—such as leadership," Wilson said. "Our students should be learning valuable skills by using them from the first day of their college education."
For Nemoto and her fellow Emerging Leaders in the fall 2021 cohort, the hands-on opportunities to learn about the challenges and rewards of leadership have already begun. On the fifth day of the program, they served as MCs in digital breakout sessions at the annual fall New Students Welcome Party (an online event this fall due to COVID-19). They worked with all of TUJ's new students, not just their fellow Emerging Leaders. They quickly learned that, even with training, it's not easy to coax new students out of their shells—and that's just fine, say the TUJ administrators.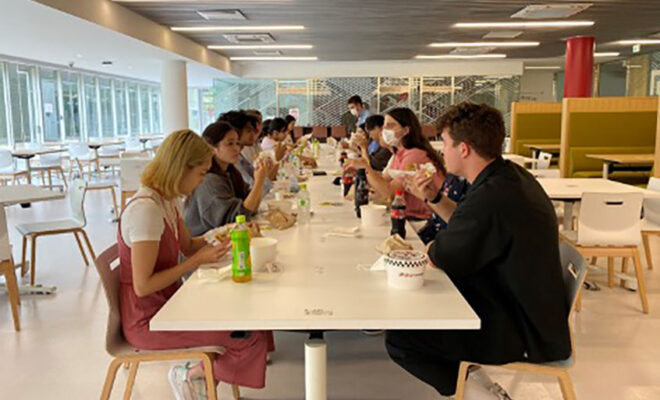 "The students don't need to be natural leaders—that's not the purpose," said Luis Navarro García, TUJ's assistant director of student engagement, a newly created position. "It's for anyone with the intention of becoming a leader. We will coach you."
That suits Nemoto, who says she was never the type to thrust her hand in the air to nominate herself to run for class president. "I don't like being the person in the front," she admits. "But I'm learning that the people behind that person are also leaders. You can lead from the front of the line and from the back of the line. If you understand how to be a leader, you can do well in any position and any type of job."
The benefits of the Emerging Leaders program for students and their future employers are obvious. Students learn skills and network with real leaders, a group that so far this fall has included the head of global human resources at Mitsubishi UFJ Bank and a former public relations director at Amazon Japan, says William J. Swinton, director of TUJ's international business studies major and the instructor of the core semester-long Emerging Leaders program course. Employers get graduates who are ready to lead with confidence. But what does TUJ get out of the Emerging Leaders program? According to administrators, the school hopes to get the next generation of leaders to helm official student organizations, including student government, clubs and a soon-to-debut campus programming board.
If the attitudes of the students in TUJ's first group of Emerging Leaders after a few weeks of programming are any indicator, they'll have plenty of volunteers. Emerging Leader Kumi Michelle Nakazawa, a freshman international affairs major, is exploring the idea of starting a new club at TUJ focusing on volunteering opportunities and public service. And Nemoto, who previously had no intention of serving as a class officer, is starting to change her mind after having lunch with TUJ's current student leaders a few days into her Emerging Leaders experience.
"I'm thinking about running for student government," Nemoto said. "They're very convincing."