On Thursday, September 16, 2021, Sophia University and Temple University, Japan Campus (TUJ) held a virtual joint career fair, which has been held annually for 10 consecutive years. This event is all in English and aims to connect international or bilingual students with companies who seek fresh talent with multicultural backgrounds. Both universities work to support students from abroad who wish to find a job in Japan, but have difficulty getting involved in job hunting due to their level of Japanese language proficiency. With the cooperation of the hiring companies seeking talens regardless of Japanese fluency, this joint career fair in English has been held every year since 2012. This year, a total of 166 students and 13 companies participated.
Unlike the last fair, this event was open to not only students and alumni of TUJ and Sophia University but also students from Waseda University and Rikkyo University, both top private schools in Japan. The event format was also a new interactive format. Companies–from large corporations to startups from a variety of industries– were assigned two tables each and students were free to join any tables. Each table accommodated five students at maximum, so it was easier for students to talk to employers directly. Also, some one-on-one tables were available, so students and companies could begin hiring processes if they liked.
Participating were seniors serious about job hunting, sophomores and juniors looking for internship opportunities, and freshmen browsing for useful information. Most of them were happy with the new format, which differed greatly from usual career events with webinars focused on company presentations.
"I enjoyed this event format a lot more, and I hope TUJ continues with this event format for future virtual career fairs," says Si Eian Lim, who graduated from TUJ this summer. "An HR person at one table was so interesting. He shared many of his life experiences and invited us to ask anything related to careers at any company."
Cut Naomi Noor Azmi, a graduate student of Sophia University, joined from her home country, Indonesia, since she was unable to return to Japan due to the immigration policy during the pandemic. She was looking for an internship opportunity at a Japanese company to learn about Japanese work style and work ethics. "I'm interested in project management and found an intern position was open in one company. The employer told me what I needed was loyalty to the company and an eagerness to learn new things, and that motivated me."
Personal skills and understanding of diversity and inclusion are the major reasons why students with international backgrounds are hired, according to Sachiko Matsumoto Human Resources of the GMS Department at PwC Tax Japan, one of the participating companies. "The event was a great opportunity not only for students, but also for us to listen to students' questions and answer them directly. Recently, students tend to draw their career plans clearly by themselves and explore how companies can support them, and it even motivates us in hiring."
"This is a great time to take advantage of all of the online events that are happening all over the world, so I feel it's better to focus on what we're able to do now in this new situation, compared to what we miss from the past," says Erica Adams, director of the Career Development Office at TUJ. "We value one-on-one career consultation while directing students to the right resources for their situations and making sure that they're taking advantage of online resources."
Gary Auger of Sophia University's Career Center, who was in charge of this event, says, "The whole point was to create an atmosphere that makes it easy for the students to communicate with the company staff as if they were meeting in person. First and second year students who attended were made aware of what they need to do in the near future by watching senior's. I wish them the all the best during these difficult times."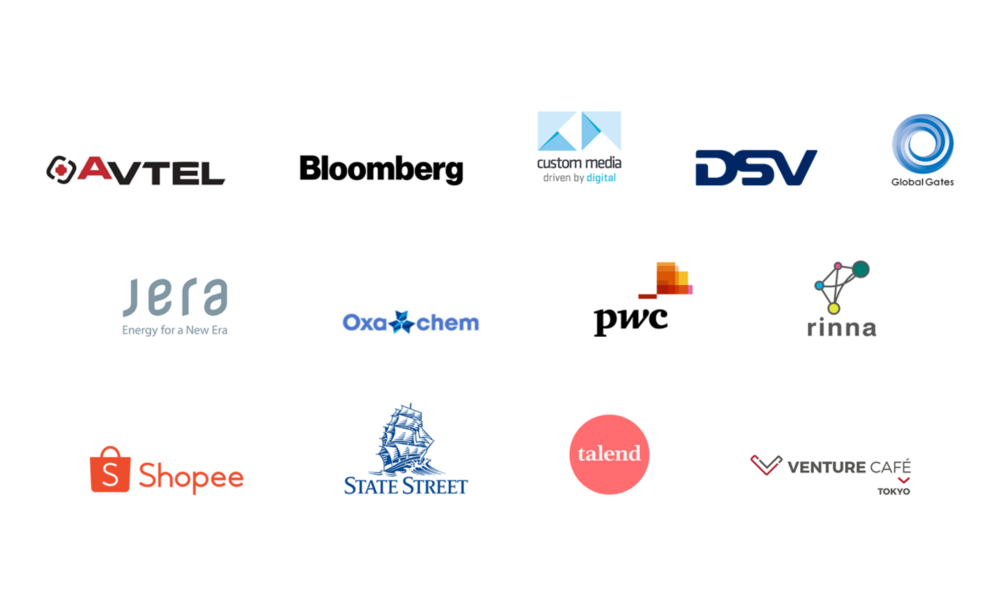 Companies Participating
AVTEL Ltd., Bloomberg L.P., Custom Media K.K., DSV Solutions Japan, Global Gates Co., Ltd., JERA Co., Inc, Oxalis Chemicals Ltd., PwC Tax Japan, rinna, Shopee Japan K.K., State Street Trust and Banking Co., Ltd., Talend K.K., Venture Café Tokyo