Jason Teal, TUJ freshman majoring in political science
The TUJ homestay program provides incoming international students with valuable first-hand experiences interacting with Japanese families. Jason Teal, a freshman political science major from New Jersey, USA, came to Japan and stayed with his host family in Setagaya, Tokyo during spring semester (January – April 2021) despite the global pandemic.
-Why did you want to do a homestay?
Jason: I wanted to try a serious experience. I believe what inspires anyone to go abroad is the opportunity to see the full spectrum of culture, personalities, and the diversity of mankind. It is these colorful elements of this world which enable adventure, the most gratifying of human experiences. Simply immersing oneself in a new and foreign society is enough to achieve this feat. Though to put oneself in a position of a homestay is to constantly live and breathe new air. It takes the challenge of living in a new society to your front door where you'll learn to remove your shoes, your nightly routine where you'll learn it's bad luck to whistle past sunset, and to your dinner table where you'll learn to keep your elbows off of the table as you speak. It demands an enormous appetite for experience.
A homestay is to truly live in a cultural adventure. And it can be an adventure during a time such as a global pandemic. To many, one of the most painful facts of this pandemic is that we are confined. And many of us can only gaze in wonder at what must lie beyond the horizon. And though my host family and I were often confined together, it was an adventure nonetheless. We were fortunate that this pandemic couldn't thwart the adventure inherent in cultural exchange.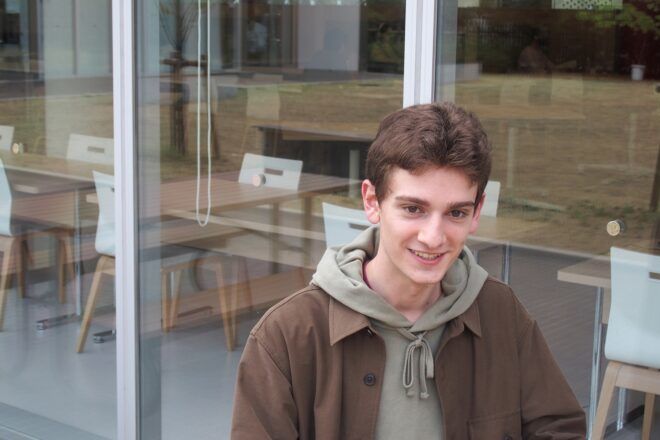 -What did you enjoy the most during your homestay?
Jason: I had two younger host sisters, 11 and 8 years old. When I first met them, my heart was racing and I was nervous, but we got along really well. I really enjoyed spending time with them. As the family lived in California for a few years, they spoke English, but I tried my best to improve my Japanese and my host sisters helped me a lot.
-How did you overcome challenges?
Jason: The language was the most challenging part. My host father is a university professor who teaches at several institutions and invites his students to his home. It is such a wonderful experience to spend time with Japanese students, but when they started talking mostly in Japanese, to the level which I don't understand, I felt isolated. I tried hard to follow the conversation, though. I guess persistence and continuous effort are the key.
-What made you come to Japan even during the global pandemic?
Jason:Japanese culture is intriguing. I am passionate and have been involved in Karate since I started high school. And the language was also my passion. Although I am still at a beginner level I try hard. When I was in high school, I used to go to the library, read about Japan, and study the language on my own. When I googled Japan, TUJ appeared in the seventh or eighth page. I started emailing TUJ when I was 15.
TUJ sent me a brochure. I come from a very small town, so I was thrilled to have gotten mail from Japan. And I got to meet a TUJ recruiter when she visited our area with the "Admission on the Road" program. She is Vietnamese and has lived in the UK, and now works for an American university in Japan (TUJ). I thought "I want to be like her."
I asked my mother if I could go to Japan with my own savings to participate in TUJ's High School Summer Program. I started working for a pharmacy every day after school to late at night. I had to work for a year but finally saved 4,000 USD and attended the summer program in 2019. It was amazing. I probably took over 1,000 pictures of food, buildings, and people. People at TUJ that I met were fantastic.
With this experience, I gained confidence. If I could do the summer program, then why not the full academic year. So I came. The pandemic didn't stop me at all.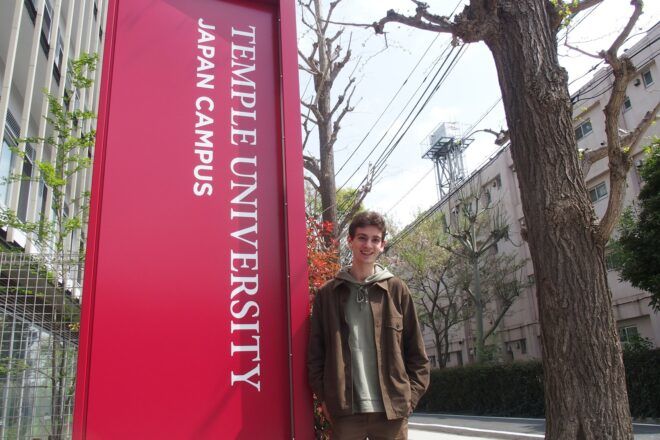 -Now that you are actually at TUJ, how has your university life been?
Jason: TUJ is such a diverse university, like nowhere on earth, not just nationalities, but everybody's character. We all have stereotypes, xenophobia to some extent that we all need to overcome, but TUJ is a microcosm where we can feel safe. It is such a creative place with great thinkers. I am a first-generation college student in my family, and I believe I made a right choice studying here and learning to care about people.
-What advice would you give new students considering a homestay?
Jason: In a new environment you will be confused. Every family is different. You might think you'll be in a fog, but there will be an end to the fog. Yes, eventually you will see the end. Be ready, and enjoy it.