Temple University, Japan Campus (TUJ) welcomed a total of 125 international students into Japan after the easing of Japan's border restrictions. In January, the state of emergency was enacted in many places including the Tokyo metropolitan area, got lifted briefly but soon reactivated. International students in Japan continue to face an unprecedented pandemic in an unfamiliar country.
This story features one of the generous host families in TUJ's homestay program who welcomed international students craving to learn Japanese culture into their homes.
Masahiko and Shoko Inoue of Koto-ku, Tokyo, hosted Jeremy Masiwchuk, a sophomore International Business Studies major from Washington, USA, who transferred from Cascadia Community College. He stayed with them for four months, from January through April.
-Tell us why you chose to host a student.
Shoko Inoue ("Shoko"): We found out about TUJ's host family program on the TUJ website. I had done a homestay in California when I was in college, which was one of the reasons we applied.
Masahiko Inoue ("Masahiko"): I lived in Arizona for about 15 years and in Chicago for two years, so I have a good understanding of the American way of thinking, and thought I'd give it a try.
-What were some of your concerns about the coronavirus pandemic?
How did you feel after you actually started as a host family?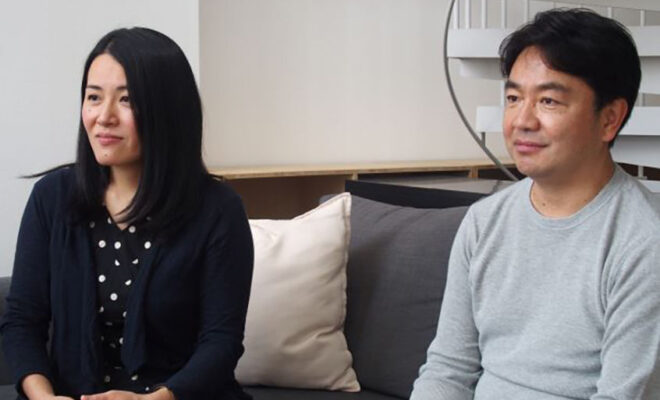 Masahiko: I didn't really have any concerns. Jeremy came to Japan at the end of last December with a proof of a negative COVID-19 test, and he spent two weeks in a quarantine facility prepared by the university before coming to our house, so I felt it would be safer than meeting Japanese people. Ever since he came, he has remained mostly inside, which made us feel very safe. Everyone in the family knew where he was.
-How did you feel about the fact that his classes were remote?
Shoko: My husband and I both work remotely. When we were at home, all three of us worked and studied in our own rooms. I think I was the loudest when I was in meetings (laughs). I had no problem with him studying from home, but I felt sorry for him because he didn't have many opportunities to go to the university and make friends despite the fact that he had come so far to Japan.
Working remotely, studying from home, it was like having more colleagues in the house (laughs).
-With so many changes in your own daily life due to the pandemic, what was beneficial about hosting a student in your home?
Masahiko: Our life became more organized. On our own the times easily get shifted off course, but thanks to Jeremy, we were able to stick to a schedule, like having lunch at 12:00, and the like.
Shoko: It was nice to experience being a host family, because we didn't get to go out to enjoy ourselves or have too much contact with other people. Everyone was home, so it was great to be able to be together during the day and talk.
-What were some special moments as a host family?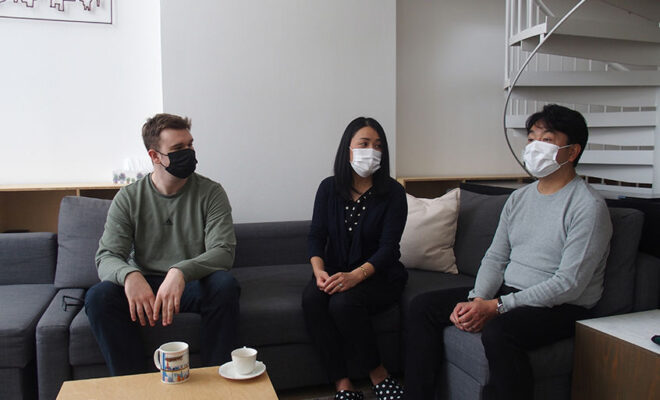 Shoko: Jeremy loves cars, so we went to the Tatsumi PA (Tatsumi Parking Area on the Metropolitan Expressway) together. We didn't know there was a mecca for car enthusiasts so close to our house (laughs).
It's located at a highway parking area, so we couldn't walk there. The three of us drove there. Jeremy was staring at the cars coming one after another. It was a new world for us (laughs).
Masahiko: We also went to an event at the Tsukuba Circuit. I learned what was great about going to watch races, with the awesome sound of the engines, the tires burning, and the smoke billowing.
-Did you have any difficulties or problems?
Shoko: (Providing food preference information we received prior to his arrival,) Jeremy is so adventurous. I was impressed with his willingness to eat anything, including Japanese food. I was a little puzzled when there were times when he didn't eat much, and I wondered if what I made didn't suit his palate. I guess he has gotten used to the taste, because I haven't worried about it in later days.
Masahiko: Honestly, there wasn't much. I think it was within the range of what I expected. He would try anything. Compared to my friends and acquaintances in the U.S., he didn't seem to have many dislikes, which impressed me. I think he has gotten used to Japanese food and culture.
Shoko: Yes, it seems he has. He was very considerate to us. His parents gave us their contact information, but we didn't have any trouble and didn't have to contact them even once.
-What advice would you give to families who are considering hosting students?
Shoko: I would say avoid being overly nervous. Take precautions against infections, but enjoy life as much as you can.
Masahiko: The important thing is that everyone should live at their own pace.
-Jeremy, did you have any concerns about coming to Japan under the pandemic? Was your family worried about you a lot?
Jeremy: I came to Japan on December 26, the day after Christmas, and stayed at the quarantine facility provided by the university for two weeks, then the Inoues came to get me on January 9. I was able to go to the gym every day, and I felt that Japan was safer and more open than the U.S.
I think my family was worried about me, of course, but more than anything, they supported my decision to study in Japan and stay with a host family. I am very happy that I was able to come to Japan despite the situation.
-Why did you want to study in Japan?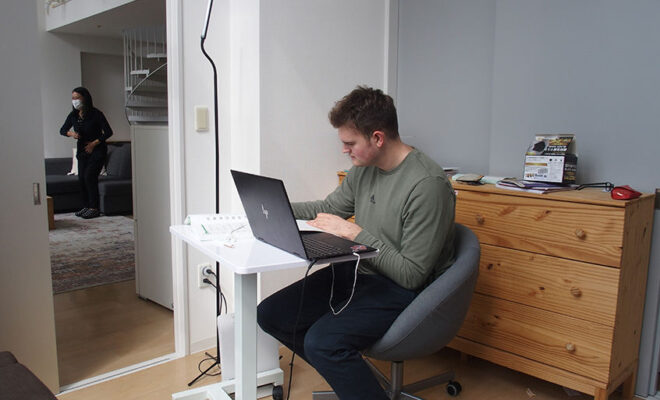 Jeremy: I like sushi and have been interested in Japan since I was little. Between September and December 2019, when I was in high school, I participated in a community college study abroad program and stayed in Japan. I was able to go out freely then, and had a great time hanging out in Shibuya and having fun.
After that, I decided that I wanted to study Japanese for real, so I decided to spend more time in Japan, learning the language through a lot of different experiences, and speaking Japanese every day. After about three months into my home stay, my Japanese language skills had improved considerably. I am planning to minor in Japanese at the university.
-What were some of the challenges you faced after coming to Japan?
Jeremy: It's been very difficult to meet new people and make friends in the current situation. After joining the tennis club at TUJ, I try to go to campus one or two times a week. I had some challenges with the paperwork right after I got here like a registration at a ward office, but my host family helped me out.
-What was the best thing about coming to Japan for you?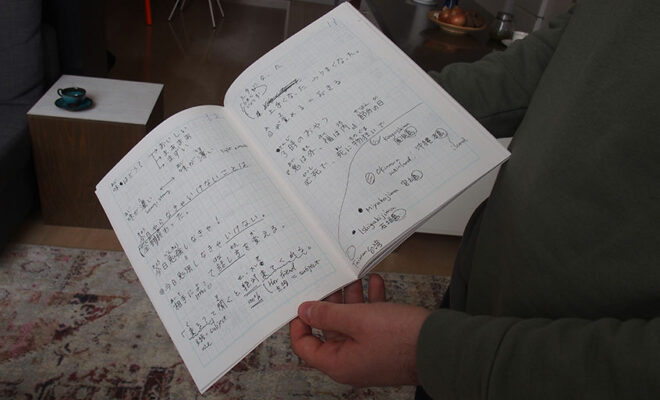 -Why did you choose to study at TUJ?
Jeremy: I found TUJ while researching universities online. I wanted to get a degree from an American university, not a Japanese university, so TUJ, an American university in Tokyo, was the perfect environment for me. I like people on campus. The Japanese classes were online (in spring semester), but I think face-to-face classes are better. TUJ faculty is very engaged, and I can reach out to professors easily. I think this is a feature of a small university like TUJ. On campus, I even played basketball with the dean, and I was very happy. He was down-to- earth and easy to talk.
-What do you remember most about your time with the Inoue family?
Jeremy: There were many things, but one was when they took me to Onjuku, Chiba (Shoko's parents' house). It's a very nice country town by the sea.
-Do you have anything to say to new students who are interested in doing a home stay with the TUJ program?
Jeremy: Come with a goal and a reason why you are doing a home stay. It's important to know what you want to fulfill by the end, why you want to do it, and to work towards your ultimate goal.