Updated: May 25, 2018
Showa Women's University (SWU) and Temple University, Japan Campus (TUJ) have agreed to share a campus at SWU's current location in Setagaya-ku, Tokyo. TUJ will move its entire operation from its current locations in Minato-ku, Tokyo scheduled from August 2019, to a planned six-story building on SWU's campus. The two universities will share some existing facilities at SWU including sport fields and gyms, auditoriums, and cafeteria. This agreement to share a campus is the first of its kind between Japanese and American universities and marks an unprecedented step to promote the globalization of Japanese universities.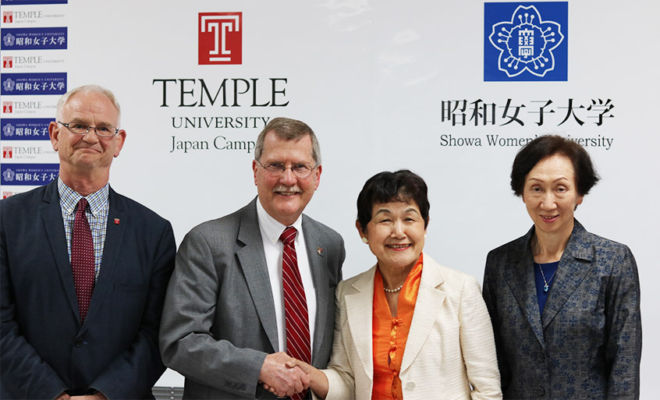 This partnering will allow SWU students to take courses and receive credits at an American university without leaving Japan. TUJ and SWU students are currently participating in a credit transfer program as part of a Memorandum of Understanding signed by SWU and TUJ in 2016. SWU intended to send 45 students annually to TUJ, but traveling between the campuses has been an issue. TUJ's relocation will resolve this travel issue and bring to SWU a global environment with multicultural student exchanges. The universities plan to discuss the development of additional programs including joint degrees and collaborations in extra-curricular student clubs and activities. Joint workshops and research projects will be also developed for faculty and staff.
Since 2016, TUJ's undergraduate enrollment has exceeded 1,000, a record high since its founding in 1982, but, facility and classroom enhancement has been a long-standing challenge for TUJ. SWU's proposal to share campus space presented an opportunity to solve TUJ's facility issue while enhancing the globalization and academic programs of both institutions.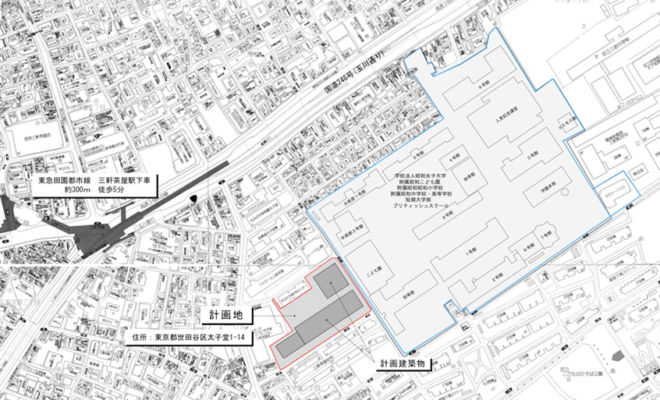 In 1988, SWU opened "Showa Boston" in the United States to provide its students with a study abroad program, while promoting globalization through expansion of MOUs overseas. By partnering with TUJ, SWU hopes to further advance the globalization of its campus and academic programs.
TUJ's students come from over 60 countries and follow the same academic requirements as students at its main campus in Philadelphia, Pennsylvania. In addition, to bring in this diversity, the presence of TUJ's male students at SWU will add a new dimension to the campus. This will transform SWU while preserving its mission and identity as a women's university.
This year TUJ celebrates its 35th anniversary as the first foreign university's Japan Campus and the only four-year American public university in Japan. Temple University hopes this agreement will further strengthen its presence in Japan.
Universities everywhere are being urged to strengthen their efforts to globalize. SWU and TUJ are determined to use their collaboration to promote globalization and to improve the quality of university education in Japan and the United States.
New TUJ-SWU Campus
Address:

1-14 Taishido, Setagaya-ku, Tokyo, Japan

Area:

approximately 7,600 square meters
Six-story building with gross floor area of approximately 13,200 square meters (TUJ approximately 9,000 square meters and SWU 4,200 square meters)

Construction period:

October 2017 through August 2019
Showa Women's University
Address:

1-7-57 Taishido, Setagaya-ku, Tokyo, Japan

History:

1920 – Established as Japan Women's Institute
1988 – Established "Showa Boston" in Massachusetts, USA
2012 – Granted MEXT's subsidy for "Promotion of Human Resource for Globalization Development"

Enrollment:

Graduate and undergraduate: 5,633 (as of May 1, 2016)

Undergraduate Majors:

Faculty of International Humanities: English Language and Communication, International Studies / Faculty of Global Business: Business Design / Faculty of Humanities and Culture: Japanese Language and Literature, History and Culture / Faculty of Humanities and Social Sciences: Psychology, Social Welfare, Contemporary Liberal Arts, Elementary Education / Faculty of Life and Environmental Sciences: Environmental Science and Design, Health Science, Food Science and Nutrition, Food Safety and Management
Temple University, Japan Campus
Current Address:

2-8-12, Minami Azabu, Minato-ku, Tokyo, Japan

History:

1982 – Established in Tokyo, Japan
2005 – Designated as Foreign University's Japan Campus by MEXT

Enrollment:

Graduate and Undergraduate: 1,389 (as of Fall 2016)

Undergraduate Majors:

Art, Asian Studies, Communication Studies, Economics, General Studies, International Affairs, International Business Studies, Japanese Language, Political Science, Psychological Studies
Temple University
Current Address:

1801 N. Broad Street, Philadelphia, PA 19122, USA

History:

1884 – Established in Philadelphia, Pennsylvania, USA

Enrollment:

Graduate and undergraduate: 38,027 (as of Fall 2016)

Degree Programs Offered:

Associate 2, Bachelor's 149, Master's 148, Doctoral 65

Overseas Campuses:

Tokyo, Japan / Rome, Italy