It is hard to imagine anyone more suitable as coordinator of the International Affairs major at Temple University, Japan Campus (TUJ) than a well-travelled polyglot devoted to political studies. TUJ Associate Professor James D.J. Brown is exactly this kind of person. When he is not teaching, he studies the intricacies of Russian-Japanese political relations. He speaks five languages: English, French, Spanish, Russian and Japanese. He has travelled and lived in several different countries, including the U.K., France, Spain and Japan. But most importantly he can spark interest in politics even in those who believe their voices do not matter when it comes to government decisions.
Devil's Advocate
Brown is a proponent of interactive learning where students actively engage in discussions. "We can check facts on the internet easily," he says. "We need to encourage students to think and analyse. On the biggest political questions, there are no wrong and right answers", he adds. "Each approach has its own strengths and weaknesses. The International Affairs curriculum teaches students to see and debate those strengths and weaknesses."
The program strives to avoid any ideological agenda. "Of course," Brown admits, "there are always some biases that we have, but we should strive to recognise our pre-existing assumptions and do our best to present information in an objective way." That is the reason he prefers to use a teaching method that involves asking questions and encouraging for students to come to their own conclusions.
At the same time, he challenges common beliefs and preconceptions. For example, a reading assignment in one class questions democracy as a method for selecting political leaders. Brown explains the purpose of this is not to promote the idea that there is a system better than democracy. Instead, the intention is to encourage students to examine their assumptions and think about why, despite its weaknesses, democracy remains an attractive system of government. Another class involves analysing international politics from a North Korean perspective. The idea is not to justify Pyongyang's actions, but rather to better understand them.
"Playing the devil's advocate is one of the instructor's roles, especially when the class is quiet, Brown says with a smile.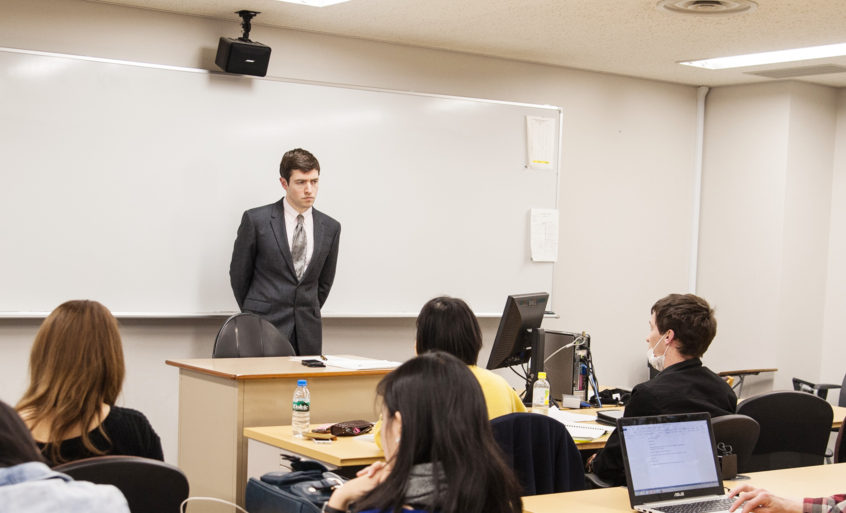 Focus on East Asia
While International Affairs majors study a variety of political topics and get a good grasp of situations around the world, the program emphasises East Asia, especially Japanese, Korean and Chinese politics. The curriculum introduces students to the basics of modern world history, fundamental economic principles and theories, and the politics and international relations of the major Asian powers. Political topics covered in classes range from theories of war and peace to democracy and political philosophy. In addition to classes on the politics of Japan, China and Korea, students are offered a wide selection of other courses, including those on Middle Eastern, Eurasian and U.S. politics. Students also acquire at least an intermediate level proficiency in one of the East Asian languages: Japanese, Korean or Chinese.
One of the most attractive features of the International Affairs major is the mandatory internship. Students get first-hand experience in places of work with relevance to international affairs, such as embassies, large international companies, and non-governmental organisations. They can apply the theoretical knowledge they have gained through their studies, obtain practical skills, and get an insider's view of how the worlds of politics and business work. Some students find employment in the same organisations in which they did their internships.
Alexander Gonzalez, a third-year TUJ student and aspiring diplomat, shares that the program has helped to broaden his knowledge of the world, especially about the major players on the Asian political scene. He plans to specialise in this region, so, he says, Japan is a perfect place for him. Moreover, life in Tokyo provides the opportunity to immerse himself in Japanese culture and language and to become proficient in both. "Being here is a bonus," Gonzalez says. "A golden ticket!" He is certain that his degree in International Affairs and fluency in Japanese will be great assets in his future diplomatic career.
Tiago Sesoko, a fourth-year International Affairs major, researched the Hong Kong Umbrella Movement for his capstone course, a culminating course that allows students to demonstrate skills and knowledge gained in the university. "I was able to use my capstone paper topic for an internship [with a non-governmental organisation in Hong Kong] because I am interested in human rights issue," he says. His research played a major role in the internship interview. Sesoko is planning to attend law school after he graduates and would like to eventually work with asylum seekers.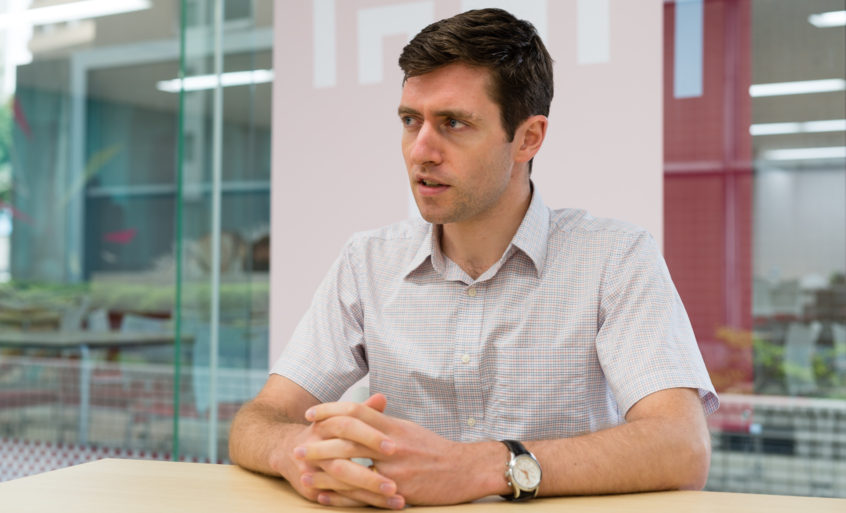 Diverse Student Body Fosters Global Outlook
TUJ is one of the most international places in Tokyo. Instructors and students come from a wide variety of cultures and backgrounds including, for example, children of diplomats, military veterans, nikkei (Japanese diaspora overseas). "[T]he cultural and ethnic diversity of students and faculties […] helps a lot for students to broaden their views and understand different societies and cultures," says Yi Wang, instructor of the TUJ "China: State and Society" course. "The ability of intercultural understanding is particularly important in the globalization era, and it should be TUJ students' strength," he adds.
Many alumni go back to their home countries and work in multinational or domestic companies. After completing the program, they are specialists in the Asian region with first-hand knowledge of Japanese culture and traditions, and are, therefore, highly sought after as employees. Japanese students especially benefit from exposure to a diverse student body and faculty. By encountering foreigners on a daily basis, they acquire a global outlook which helps them stand out from graduates of mostly homogenous Japanese universities. Brown also mentions that the program teaches Japanese students that politics can be interesting and exciting, something which many young Japanese do not initially realise.
Pursuit of Happiness
"Speak freely, express your views, and respect others" is Brown's teaching motto. He encourages students to have their own opinions, to debate them, and to criticise others' views while staying respectful and avoiding making it personal. He wants students to pursue their dreams, choose their own paths, and stay true to their beliefs.
Since early childhood Brown watched the news. Politics fascinated him. Russian diplomats' visits to his father's house encouraged his interest in Russia and its relationships with other countries. As he grew older, politics became his field of expertise. He confesses that he would continue with his research even if he were not paid. Brown is very passionate about it. "Politics is one of the most important subjects. It can make such a huge difference in our lives."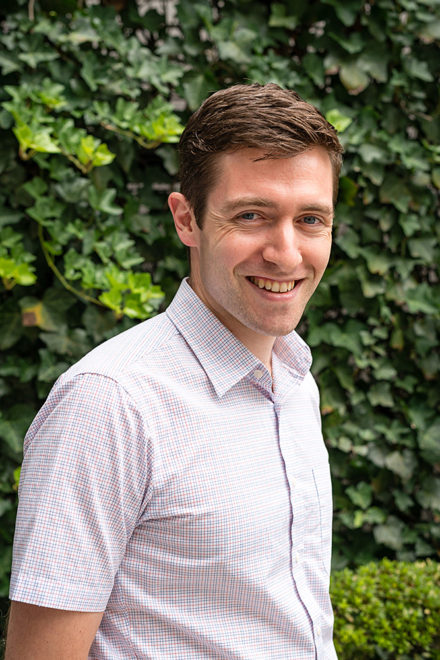 ---
By Olga Garnova (Double major in Communication Studies and Art)