April 17, 2008
Temple University, Japan Campus (TUJ) announced that Dr. Bruce Stronach was officially inaugurated as Dean on April 1, 2008. Prior to this appointment, Dean Stronach was an Academic Advisor at TUJ since January 2008.
Dean Stronach has worked in higher education in the U.S. and Japan for 30 years, in both educator and management positions. Before joining TUJ, he was the president of Yokohama City University (YCU) for three years, the first foreign president of a Japanese public university.
After his inauguration, he released following message.
I am extremely pleased and honored to be appointed the new dean of Temple University, Japan Campus, and am highly energized by the challenges and opportunities that lie ahead. I am looking forward to further advancing the development of TUJ as a world-class institution of higher education with the support, guidance and cooperation of all our stakeholders. I know that TUJ is a very good fit for me, given the similarity between TUJ's 26-year history and my own professional career in Japan.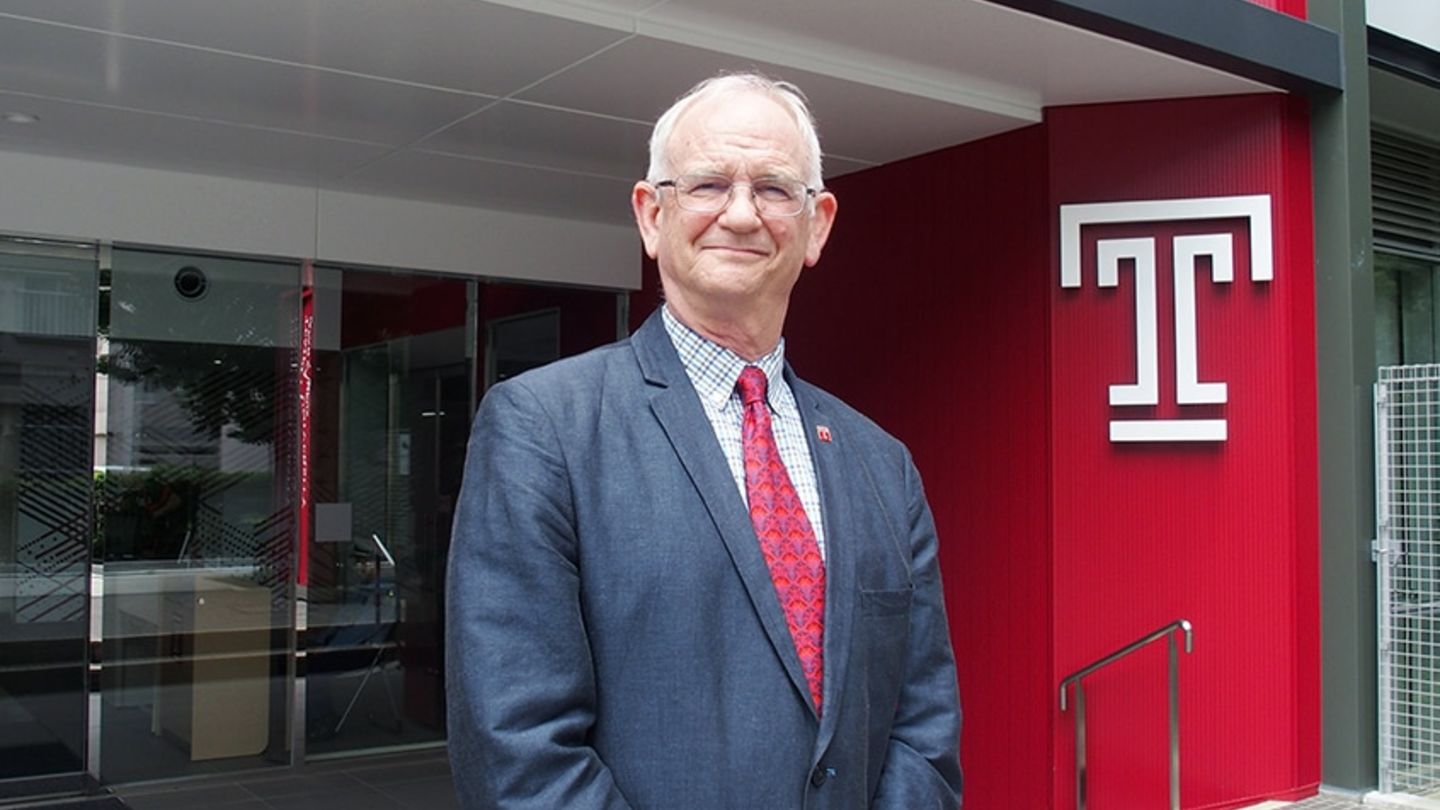 My goals as dean are to move TUJ forward as a unique international institution of higher education within the Japanese higher education system. One avenue to achieve this is by becoming gakko houjin, and we continue to actively investigate this option. I want to increase our profile in the Japanese community as an international institution of higher education by expanding our educational and research relations with Japanese institutions of higher education and corporations, expanding our outreach to Japanese high schools, and extending our relations with the local communities of Minato-ku and Tokyo.
TUJ and its American-style higher education offer many of the qualities that Ministry of Education is encouraging Japanese universities to develop. Throughout Japanese society we hear about the need to educate Japanese students to become critical thinkers, good communicators in both Japanese and English, and develop self-confidence and a sense of initiative. Here at TUJ, our liberal arts education imbues all our students with these attributes. Diversity is an essential element of this: because all of TUJ's courses are taught in English, we can open our doors to students from all over the world. About 40% of our students come from over 40 countries outside Japan. This enables TUJ to offer a diversity of thought, culture, and educational experience that is vitally important to developing a genuine cosmopolitan outlook and critical thinking.
One of TUJ's special qualities is its balance of being both an American/international institution and part of the Japanese community. I believe we can leverage this to create a synergy between TUJ and Japanese institutions to become a more integral part of the community, and at the same time contribute to the community by providing those qualities which need to be developed in contemporary Japan. I know that we can create very positive synergies between TUJ and Japanese institutions of higher education by collaborating with partner institutions to offer courses with high quality academic content, while simultaneously bringing true diversity to our partners' faculty and student body.
I believe we can also create the same synergistic collaboration with Japanese corporations, expanding the current tradition of collaborations in scientific research and development into areas such as art, design, business and management. We can achieve this through a number of vehicles including inviting corporate employees to teach at TUJ, creating education opportunities for corporations, and expanding services for corporations further through our Corporate Education Program.
The same is true for community relations. As the past president of a public university, and having graduated from a public college in the US, I am very aware of the social responsibility of universities. Temple University is a public research university deeply rooted in the community and its students, faculties and staffs are engaged in a wide range of service and research activities that benefit our neighbors down the street, across town, and throughout the region. Following this Main Campus tradition, TUJ is committed to contributing to the community in which we live to make it a better place for all. We currently run many programs such as the Minato-ku Citizen's University, Summer English Program for Minato Junior High Students, and opening the TUJ library to Minato residents. I believe there are many opportunities for us to build on them, to further enhance the quality of life in Minato Ward.
For TUJ, an important benefit of both our corporate and community relations is that students are exposed to learning outside the classroom. In a liberal arts education, creating experiences for the students to learn by doing, to understand the importance of putting their classroom instruction to practical use, is very important. We want our students to grow as human beings, and becoming an adult is an important part of the university experience. I believe it can only occur by giving students responsibility.
I look forward with great anticipation and excitement to fulfilling all these goals as the new dean of TUJ.